Introduction
Did pumpkin pie appear on your Thanksgiving menu this year? It is pretty likely. According to the American Pie Council, pumpkin pie is the top dessert at Thanksgiving.
Will pie appear again at your other parties and celebrations this holiday season? Consider mixing things up and trying pumpkin (and other winter squash) in tasty ways beyond pie.
Winter squashes are sources of fiber, carbohydrates, and multiple vitamins and minerals include folate, vitamin A (highest when flesh is deep yellow or orange in color), and potassium. And also being low in fat and sodium, winter squash should definitely get a place on your plate.
Uses
Try winter squash like mashed potatoes or cut into cubes and roast alone or with other veggies. Or try in main dishes, soups, and stews. Look in your grocer's freezer case for pureed winter squash ready to thaw and use.
Not sure what to make besides pie? Try the Simple Pumpkin Soup recipe in this post. Or give these recipes from multiple blogs and websites around UI Extension a whirl:
Web Corner
From Utah State Extension's "Food Preparation" blog, watch their video about winter squash– showing some unusual ones – including what to look for when buying and cooking tips. Or use their Winter Squash fact sheet on cutting, cooking, and preserving squash.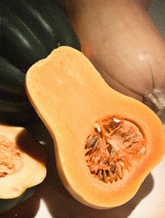 Recipe Corner
Simple Pumpkin Soup (Serves 4)
Pair with cooked chicken or steak, roasted Brussels sprouts, and a whole-grain roll or bread for a complete meal.
1 Tbsp oil
1 medium onion, diced
5 cups fat-free, reduced-sodium chicken broth
1 15-oz can pumpkin puree
1 Tbsp sugar
2 tsp cinnamon
1/2 tsp black pepper
1/2 cup 2% milk or half-and-half
1. In a large stock pot, heat oil over medium heat.
2. Add onion. Sauté 5 minutes or until soft and translucent.
3. Add broth, pumpkin, sugar, cinnamon, and black pepper. Cook about 5 minutes, stirring occasionally.
4. Pour mixture into a blender or food processor. Blend until smooth and return to pot.
5. Add milk. Continue cooking until hot, but not boiling (or mixture may curdle). If soup is too thick, add additional broth or water to get desired consistency.
Nutritional analysis per serving: 110 calories, 5g fat, 580mg sodium, 15g carbohydrate, 5g fiber, 4g protein
Today's post was written by Caitlin Huth. Parts of this post were previously included in Buckets, Bales, & Bushels. Caitlin Huth, MS, RD, is a registered dietitian and Nutrition & Wellness Educator serving DeWitt, Macon, and Piatt Counties. She teaches nutrition- and food-based lessons around heart health, food safety, diabetes, and others. In all classes, she encourages trying new foods, gaining confidence in healthy eating, and getting back into our kitchens.