Winter brings a lot of different citrus fruits to grocery store shelves. Stocked with more oranges and grapefruits than usual, maybe you have noticed other interesting citrus as well: clementines, tangerines, mandarins, tangelos, cara cara oranges, blood oranges, pomelos (also pummelos), kumquats, and others. (WEB HIGHLIGHT 1 below has identifying pictures of many citrus.)

Have you tried one of these less common citrus fruits before? If not, maybe trying one new type of citrus in January is a healthy habit to make.
Each fruit has its own unique flavor, but is often sweet and a little bit sour or acidic.
The diverse colors of citrus add to its appeal: from pale white varieties of grapefruit to bright orange tangelos to rosy cara cara oranges to deep ruby blood oranges. Many varieties of similar citrus will have different colors, like red, pink, and white grapefruits.
Size and shape also make citrus unique. Pummelos are one of the largest citrus fruits with a thick rind, while mandarins tend to be quite small. Tangelos have an almost oblong shape with their slight neck at one end.
Most citrus are easily portable inside their peels, you only need your hands to peel them open, and they do not need to be cooked to eat.
With so many different citrus, their nutrition will vary slightly. But fresh citrus are low in calories and are a source of fiber, vitamin C, folate, and potassium.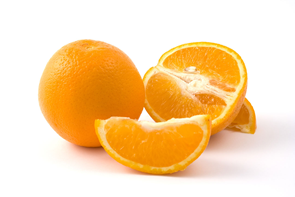 Some citrus is available year-round in stores, but you will find the best quality and price during winter months.
Buy: Choose citrus fruits that are firm, without obvious soft spots, mold, or discoloration. Soft fruits may be older and less juicy.
Price: According to the U.S. Department of Agriculture, fresh oranges are priced $0.57 per pound on average, $0.66 per pound for fresh grapefruit, and $1.24 per pound for fresh tangerines. Since fruit sizes vary, you may get more or less fruit per pound.
Store: Unpeeled citrus can be stored at room temperature and may last a week or more. Check fruit daily for softness and eat as soon as possible. If mold grows, toss out the fruit.
Prepare: Simply wash and peel citrus. A knife may be needed to peel thick-skinned citrus, like pummelos. To zest citrus, wash fruit and remove only the colored skin with a fine grater and stop before the pith. The white pith underneath most peels is bitter tasting.
Eat: Citrus is edible raw as part of a meal or snack, and works well in cold salads. When cooked as part of a sweet dessert or a savory meal, the juice or zest is most often used over the fruit sections, but some recipes may include them.
Reference: University of Florida Extension, Horticulture, Fruit Garden Plant List
Reference: University of California, Agriculture and Natural Resources, Publication 8472, Tried and True or Something New?
WEB HIGHLIGHT: The Tried and True or Something New? publication from the University of California is a great visual resource to many different citrus fruits, including some not mentioned in this blog.
Today's post was written by Caitlin Huth. Parts of this post were previously included in Healthy Eats and Repeat. Caitlin Huth, MS, RD, is a registered dietitian and Nutrition & Wellness Educator serving DeWitt, Macon, and Piatt Counties. She teaches nutrition- and food-based lessons around heart health, food safety, diabetes, and others. In all classes, she encourages trying new foods, gaining confidence in healthy eating, and getting back into our kitchens.