Please visit our main Unit page for the most up-to-date information.
All 4-H Shows in Champaign, Ford, Iroquois and Vermilion Counties are being held virtually this summer.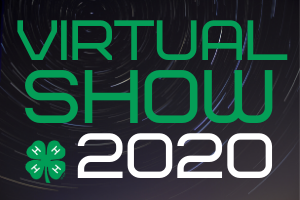 Please see the Unit Awards page for 2019-2020 Award information.
2018 Awards
Scholarships
All events through July 5 have been moved to a virtual format.
Wednesday, June 24
9:00 a.m.—Horse Show
Thursday, June 25
9:00 a.m.—Rabbit Show
1:00 p.m.—Goat Show
4:00 p.m.—Sheep Show
6:00 p.m.—Swine Show
Friday, June 26
8:30 a.m.—Poultry Show
10:00 a.m.—Beef Show
4:00 p.m.—Celebrity Showmanship Contest
5:00 p.m.—Steinbaugh Master Showmanship Contest
6:00 p.m.—Friends of 4-H Livestock Auction
Saturday, June 27
9:00 a.m.—Dog Obedience Show (Dog Care following)
11:00 a.m.—Cat Care Show
12:00 p.m.—Small Pet Care Show
GENERAL PROJECTS SCHEDULE

Tuesday, June 23 at 2:00 p.m.
·Animal Science Displays
· Vet Science
· Bicycles
· Cloverbud Projects
Environmental & Natural Resources
· Entomology/Beekeeping
· Exploring Your Environment
· Forestry
· Geology
· Natural Resources
· Outdoor Adventures
· Shooting Sports
· Sportsfishing
· Weather
· Wildlife
Horticulture & Crops
· Horticulture: Vegetable Gardening
· Floriculture
· Crops: Corn, Small Grains, Soybeans
· Plants & Soils
4:30 p.m.
Home and Family
· Child Development
· Clothing & Textiles
· Consumer Education
· Family Heritage
· Interior Design
Visual Arts
· All Visual Arts projects
Wednesday, June 24 at 9:00 a.m.
Tractor & Lawn Tractor Driving Contest
1:00 p.m.
Photography, Engineering & Technology
· Photography
· Aerospace
· Computer Science
· Electricity
· Robotics
· Small Engines
· Technologies (3-D Printing & Drone Technology)
· Tractor (Display)
· Woodworking
· Welding
3:30 p.m.
Food & Nutrition Projects
· 4-H Cooking
· Food Preservation
· Food Science
· Sports Nutrition
4-H Club Projects
Community Involvement & Personal Development
· Civic Engagement
· Service Learning
· Collectibles
· College & Career Readiness
· Exploratory
· Intercultural
· Leadership
· Health
· Communications/Creative Writing/Journalism
· Theater Arts
· Video: Filmmaking
Vermilion County 4-H General Projects Show Schedule
Check out the latest 4-H News
Newsletters 2020:
What's it like in 4-H?
In 4-H, you get to decide what topics and projects interest you most. You make 4-H what you want it to be. Work on many projects or focus on one or two. Choose what events sound fun to you, and do them. In 4-H, you have an important role in making your community a better place to live, but you don't have to do it alone. As a club, you'll figure out what's needed most in your neighborhood and find ways to help.
In 4-H, you're part of a family working together. At club meetings, you'll learn how to get along with others as you build your skills and help your community. In 4-H, you'll meet adults who care about you and want to help you succeed. 4-H matches you with mentors who will coach you in areas like problem solving, communicating, and teamwork. 4-H introduces you to potential careers and then gives you the training to get the career you want.
State Resources for Illinois 4-H Members and Clubs
4-H Youth Development Program Coordinator