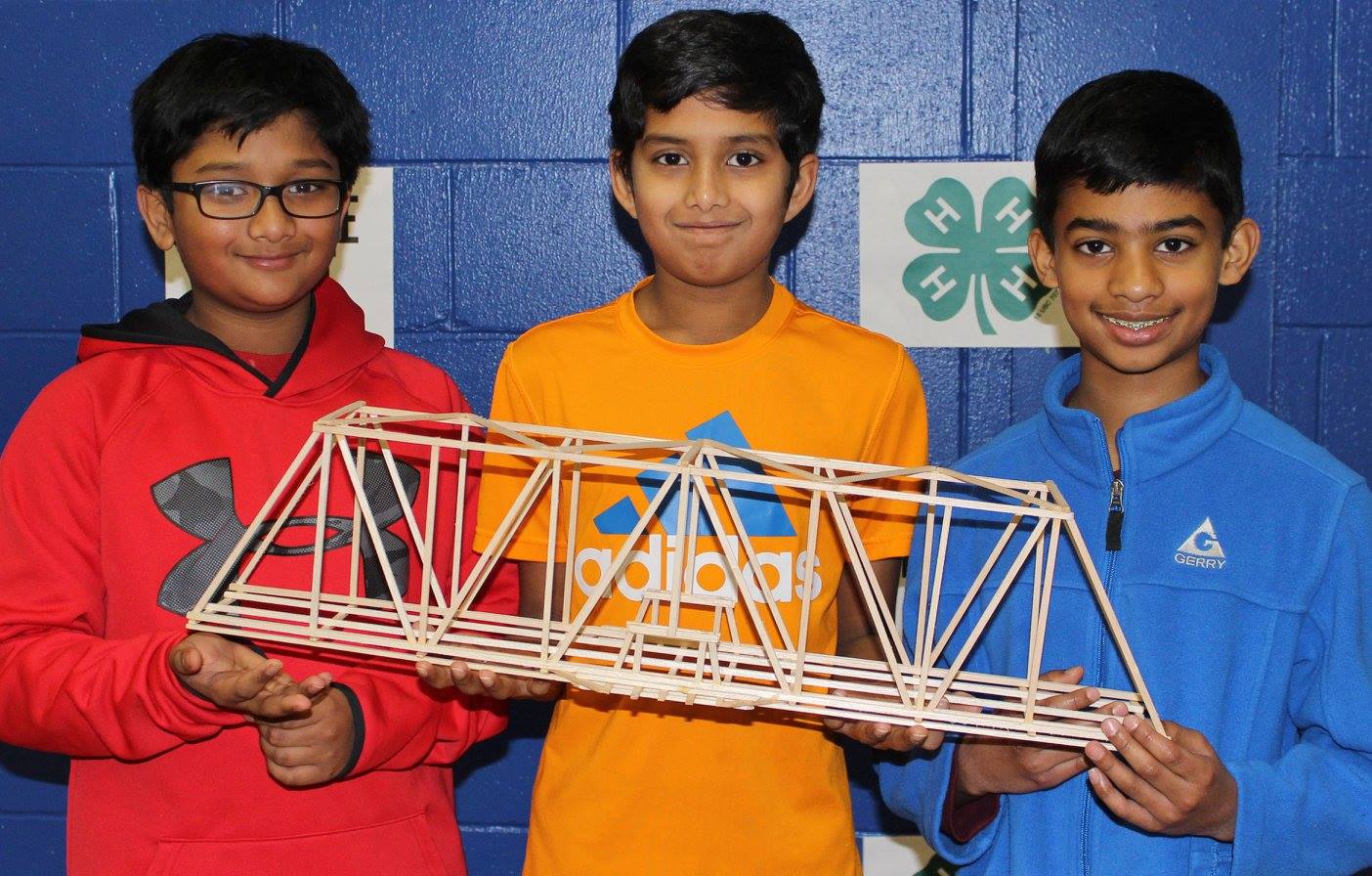 5th Annual Bridge Bust Participants Earn More than Awards
4-H Program Inspires Futures, Teaches Life Lessons
Families, community members, 4-H'ers, and school students put their engineering skills to the test in the Fifth Annual 4-H Bridge Bust Competition January 7 in Plano, Illinois. After weeks of bridge building and a morning of bridge busting, teams walked away with more than ribbons or trophies.
"This year, we celebrated five years of promoting engineering, innovation, and creativity," said Jo Ann Britton, 4-H Youth Development Program Coordinator with University of Illinois Extension. "The Bridge Bust competition provides youth and families a unique way to challenge their brains, work together, and learn about engineering principles, all while having fun."
Twelve-year-old Zoe Wareman of Oswego said she was inspired by the Bridge Bust event as well as projects at school to be a mechanical engineer one day. She entered the annual Bridge Bust event last year with a school team and she laughed as she called it "an epic fail," but that did not stop her from coming back.
This year, Zoe and her dad Michael entered in the family division. She did research, attended the 4-H Bridge Building workshop, and took a new approach to her bridge.
"We sat down and decided efficiency was most important," she said. "We decided on an over-arch with under triangles. Both are strong, amazing shapes for bridges. The truss design was zig-zag triangles for support. It also provided visual appeal, but we didn't focus on aesthetics."
It worked, as the father-daughter duo took top honors for structural efficiency overall and in their division. They even added a second-place aesthetics trophy to the bundle.
For weeks, registered teams designed and built bridges working with the same provided materials and guidelines. On Jan. 7, teams competed in five divisions: family, youth, elementary, middle school, and high school. Aesthetics honors were based on provided specifications, the quality of craftsmanship, sound structural design, and originality. Structural efficiency ratings were calculated based on the weight of the bridge and the maximum weight supported by it.
The Waremans' bridge held 22 pounds and earned an efficiency rating of 344.818, beating out more than 20 other entries at the contest.
Rural King Store Manager Brandon Kunkel said he is proud the store sponsors events like this. The Plano store collaborated with U of I Extension to conceptualize this local program at its inception, and they continue to provide the "breaking tables" and event volunteers.

"We really want to get outside the store and get involved in the community," he said. "The skills the youth learn here can help them in school and outside of school. Who knows? We may have inspired a future architect or engineer because they had this opportunity."
"This project really brings together many skills from start to finish," said Britton. "It encourages organization, teamwork, and communication skills, as well as engineering, physics, math, and more."
Yorkville teacher Nate Campbell has brought Grand Reserve Elementary School teams to the contest for four years.

"Through this project, our students come to understand basic structural principles and the laws of force and gravity," he said, adding that the participating students are very committed, giving up recess time to design and build their bridges.

"They learn to listen to each other and compromise. They learn the importance of delegating jobs within a group and managing time. When you let the students own the project, they truly learn."
Downers Grove teacher Meg Van Dyke called out additional benefits to opportunities like Bridge Bust. She has been volunteering her time to lead O'Neill Middle School bridge teams for the past five years.
"These are super devoted kids," she said. "They all love science, math, and building things. This opportunity allows them to meet like-minded kids and build camaraderie, which is important, especially in middle school."
Each year, interested students meet weekly after school and over winter break to design and build their bridges. Van Dyke said she takes a hands-off approach when guiding the group.
"Me telling them the answers does no good," she said. "They learn more on their own. It may fail 999 times before it works once. That's science. That's engineering. And it's a valuable lesson in life too."
O'Neill eighth-grader Qasim Simba said he learned how to deal with pressure and be part of a team.
"I learned it's OK to make mistakes," he said, explaining when he broke a piece of wood during the process. "It taught me to be careful and focus, and also to problem solve."
Teammate Jason Richert agreed. "We learned to recover from mistakes, accept them, and move forward, instead of completely freaking out."
The team earned a first-place trophy in structural efficiency and second place in aesthetics in the middle school division. "They will take with them much more than that," added Van Dyke.
During the event, attendees and teams also learned about real-world projects in construction, design, and engineering from Ted Gibbons, senior associate at Desman Design Management, and Bob Latzke, a civil and geotechnical engineer with CBI Construction Technology. In addition, U.S. Representative Randy Hultgren (IL-14) attended the event to support his son's 4-H Robotics team, and he spoke to the crowd about the importance of STEM education, opportunities, and careers.
"We need to do everything we can to prepare young people to fill these roles," said Hultgren, who co-chairs the STEM Education Caucus. "There are amazing opportunities out there in our communities. We are so grateful for 4-H and Extension. They are a wonderful resource we should be supporting and taking advantage of."
"The more we can have these [opportunities] available, the better chance we have to help kids find their passion and encourage them to pursue their dreams," he added.
This annual tri-county event was sponsored by 4-H and University of Illinois Extension in partnership with Rural King of Plano and the Fox Valley Family YMCA. Event volunteers, judges, and speakers included Kyle Dorf and Jacob Thede of the American Society of Civil Engineers; Chris Erickson of Power Construction; Ted Gibbons of Desman Design Management; Brandon Kunkel, Michelle Scott and Jeff Smith of Rural King; Bob Latzke of CBI Construction Technology; and Jeff and Austin Nakaerts of Kendall County 4-H.
During the judging and tabulating portions of the day, participants and spectators alike had the opportunity to see robotics demonstrations from 4-H Club #AWESOME 2.0; try out the 4-H National Youth Science Day activity, Drone Discovery, with 4-H Teen Science Ambassadors; and see 4-H projects from State Fair Superior Award winners.
"We are grateful to our partners, volunteers, and guests for making this annual event a great success," Britton said. "We look forward to the event each year, and enjoy seeing youth and community members enjoy this fun, educational opportunity."
For photos from the 2017 event and a link to the full results, visit U of I Extension DuPage, Kane, Kendall unit Facebook page. For more information about 4-H Youth Development programs in your county, contact your county Extension office or visit 4h.extension.illinois.edu.
###
University of Illinois Extension provides equal opportunities in programs and employment