Illinois 4-H is inviting the public to a front row seat for the historic total solar eclipse in August in southern Illinois where sun's path creates the longest duration of darkness.
University of Illinois Extension, in cooperation with the Southern Illinois Miners baseball team, will host an educational program on the Miners ball field at Rent One Park in Marion from 10 a.m. to 3 p.m. Monday, Aug. 21. The ball field will allow prime viewing for the afternoon eclipse.
One may order tickets online at go.illinois.edu/4Heclipse. Select "register" from the right website box. Tickets are $8 per person for entry; or one may add a lunch meal with their ticket for $15 total. Commemorative t-shirts are also available for $12 each. Deadline to order tickets is Aug. 1.
All tickets include a free 4-H glasses needed to safely view the eclipse. Parking is available for $5 per car or $10 per bus.
Educational programs begin at 10 a.m. offering youth hands-on activities with rockets, drones, robotics, virtual reality, 3-D printing, and environmental science. Families will also be able to enroll their children in 4-H at the site.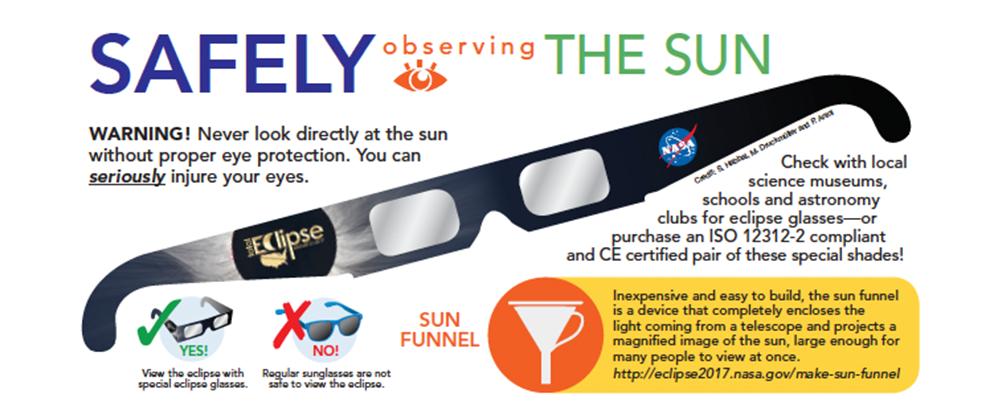 In addition to providing glasses to view the eclipse, a telescope will capture the eclipse and project it to the Miners big screen.
In a solar eclipse, the moon passes between the sun and Earth and blocks all or part of the sun, said U of I Extension 4-H Youth Development STEM Specialist Keith Jacobs. Carbondale will experience the longest duration of darkness in the country. The sun will be blocked for a full 2 minutes and 27 seconds in Marion, Jacobs said.
It is dangerous to view the eclipse without special glasses, Jacobs said. "Safety will be one of the things we stress during the eclipse," he said.
"The eclipse is the hottest ticket in town for a family to purchase," said Kristi Stout, U of I Extension 4-H youth development educator. "We are providing a safe family-friendly location to learn about science while having a fun time and witnessing an historic event."
No alcohol will be served or allowed on the field for the event. The Miners are providing laser tag and mini golf for an additional cost.
Families wishing to make it a weekend are invited to attend the Sunday night game which celebrates the rich 4-H heritage in Illinois. 
For additional information contact:
Source: Keith Jacobs, Extension STEM Specialist, 217-333-0910
Source: Kristi Stout, Extension 4-H Youth Development Educator, 618-559-3384
News Writer: Judy Mae Bingman, Extension Media Communications Specialist, 217-300-2113