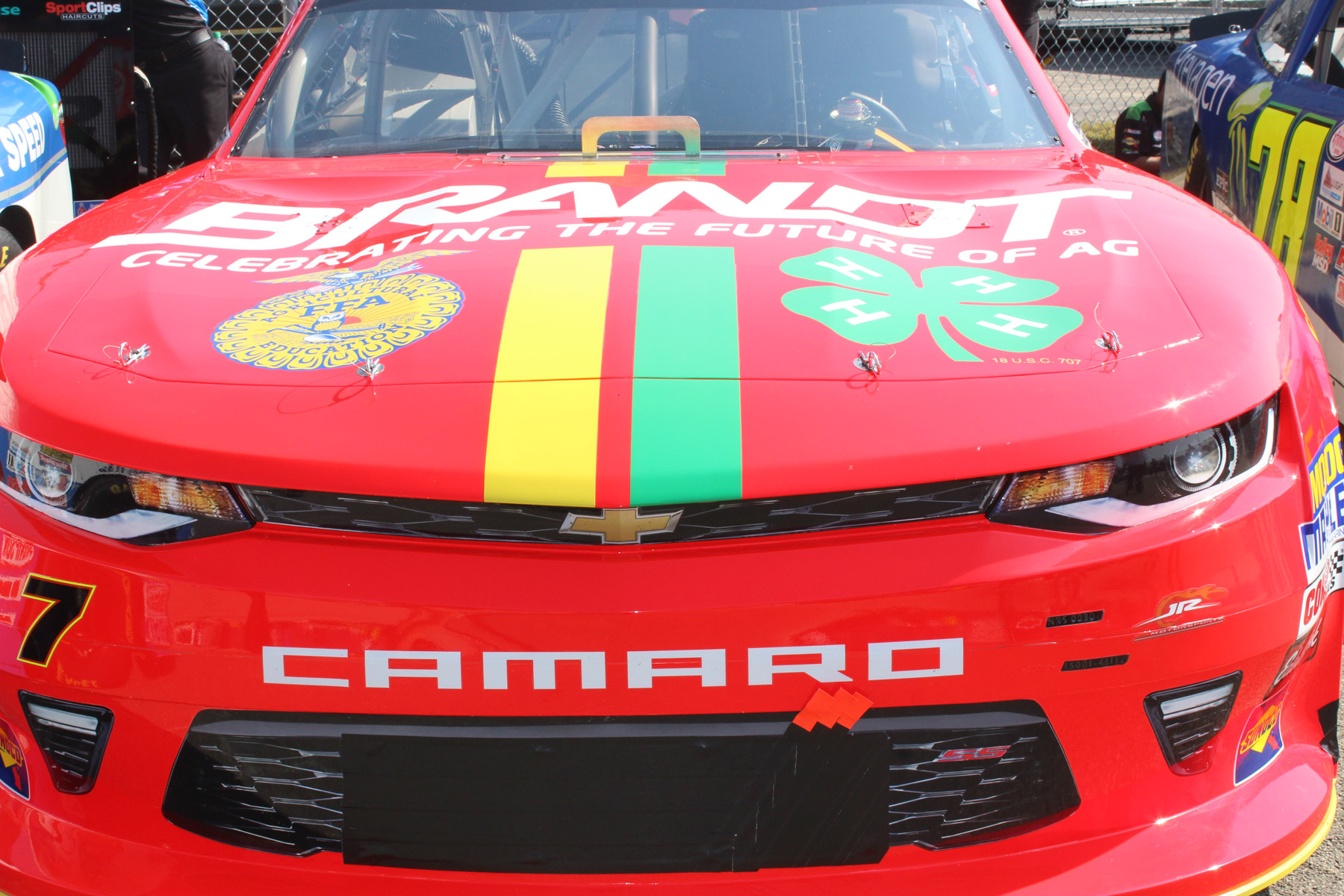 It was only natural.
4-H has been a part of Evelyn Brandt Thomas' life from her childhood days as a 4-H Club member in Pleasant Plains to her co-founding of BRANDT, a global agricultural chemical company. When The BRANDT Foundation was formed in 2012 to support the community, farms, and families where BRANDT operates, Illinois 4-H was one of the first recipients of grant money.
So, it is only natural that as Evelyn and her nephew, Rick Brandt, ventured into the NASCAR racing arena, 4-H would be along for the ride. And what a ride it was.
In the maiden voyage of the 4-H racecar, BRANDT Racing Driver Justin Allgaier pulled into the lead with less than 20 laps remaining in the race to take the checkered flag. Suddenly, the black and white flag sported some 4-H green.
Thomas, the 94-year-old matriarch of the Brandt family enterprises, welcomed dozens of families to the Sept. 18 Xfinity Race at the Chicagoland Speedway near Joliet to christen the 4-H car.
Evelyn Brandt Thomas, on the left, at the race.
BRANDT believes so much in the future of agriculture, the Illinois Ag company put the icons of the two greatest youth development organizations, 4-H and FFA, on the hood of its racecar, a company spokesman said. The company has a lot riding on inspiring young people to seek agricultural careers as they search for skilled workers to fill the growing company.
"Illinois 4-H has a tradition of challenging rural and urban youth alike to choose agricultural careers," said Angie Barnard, Illinois 4-H Foundation executive director. "By exposing youth to companies such as BRANDT, we help youth explore many ways they can be part of the solution of feeding the world's population."
Thomas privately supports Illinois 4-H's hunger awareness initiatives across the state. With her help, Illinois 4-H is close to providing nearly 900,000 meals to Illinois families in need since the fall of 2013. "With the help of the BRANDT Foundation, urban youth are teaming up with youth in rural areas to learn where their food comes from and learn what careers they might have related to agriculture," Barnard said.
"BRANDT, through its NASCAR program, elevated the exposure of 4-H to new levels that day," Barnard said. "Their gift of prime advertising space meant thousands of people saw our green and white 4-H clover emblem."
"4-H empowers and prepares youth for success," said Lisa Diaz, University of Illinois Extension assistant dean and director of Illinois 4-H. "Whoever you are and whatever your interests, 4-H can help youth channel their talents to set and achieve personal goals."
For the Brandt family and their entities, you don't have to wonder where they think the future of agriculture lies; it plain as day emblazed on the hood of their car.
Learn more about 4-H online or by calling 217-333-0910.
Page Notes
two photos - should be sized right