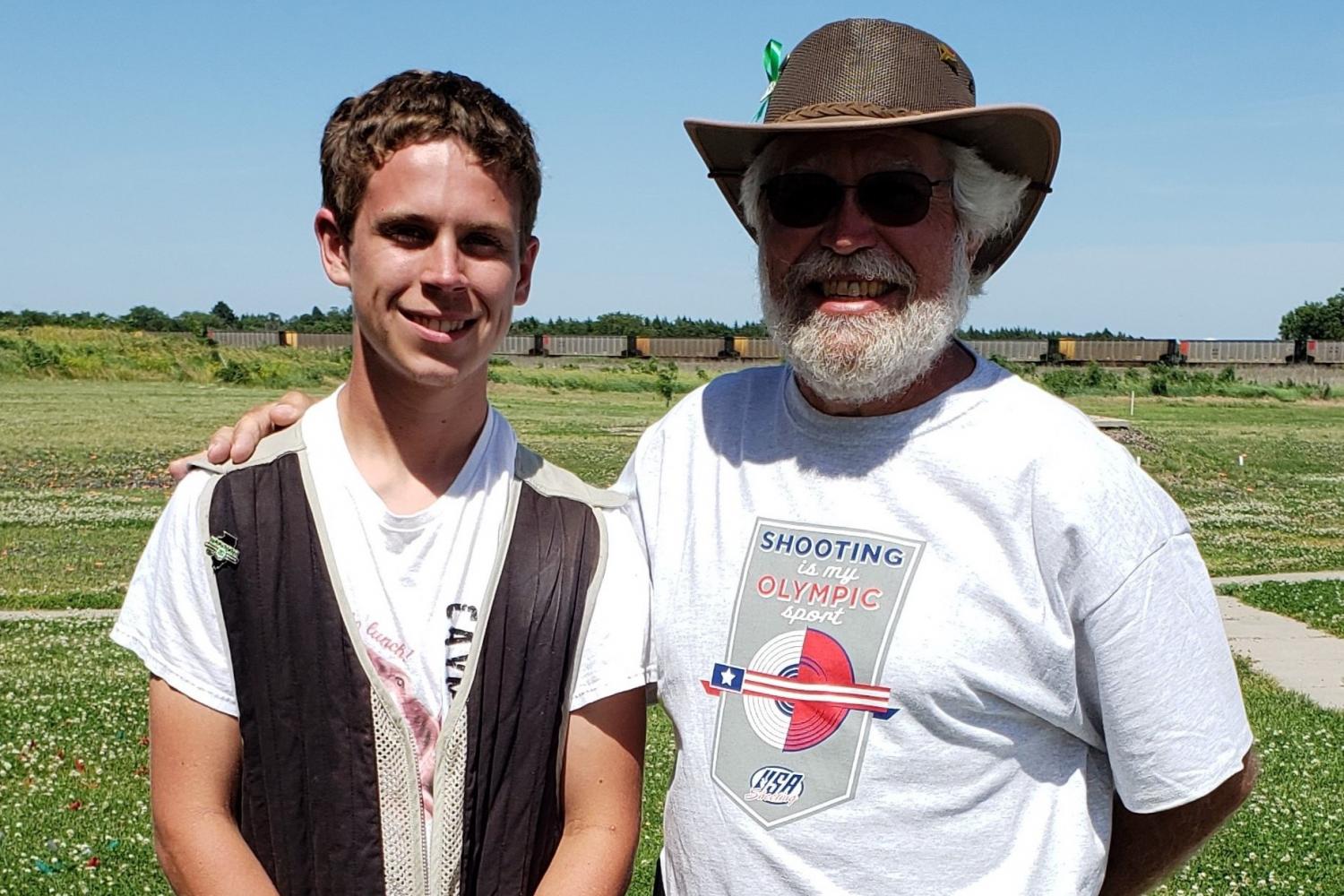 At age 10, the perfect day for Dakota Larimore-Lamb was hanging out with his dad, Tom, doing one of the things they loved most: trekking into the woods on a clear, crisp day for target practice. Despite his enthusiasm for the sport, Dakota's early target shooting efforts tended to feature as many misses as successful hits.
Fast forward eight years. Today, as a senior at Bement High School, Dakota is one of the best shooters in the state. He's been to the National 4-H Shooting Sports competition and has significantly improved his target shooting skills. And he has the championship medals to prove it.
According to Dakota and his dad, a large part of Dakota's success is thanks to his 4-H leader, Tom Bates. Bates serves as a mentor, role model, and almost-grandpa figure to the 18 kids in his Mid-State Marksmen 4-H club, a role he enjoys, but doesn't take lightly. He has learned to be positive, but firm, so his 4-Hers can have a fun time but also be disciplined and understand the importance of handling firearms safely.
Bates has been Dakota's club leader for about five years and has watched him improve his marksmanship significantly, but has also watched him mature in a lot of other ways. Bates spent a lot of time trying to teach Dakota to maintain a good attitude even when he misses a few shots.
Dakota's Dad remembers when Dakota would get mad and storm off when things weren't going his way. These days, Dakota demonstrates a steadier response to stress.
"He doesn't have peaks and valleys when he's out competing. You can't tell when he misses a target or when he breaks a target. His level of intensity is the same," says Bates.
Dakota didn't become a level-headed sharpshooter overnight. Bates spent a lot of time coaching him, and Dakota put in even more hours on his own. Bates says it is important to improve step-by-step. He gives Dakota and all his 4-Hers one goal to work toward at a time, even if they need to improve in multiple areas. He wants the kids to focus and see themselves get better, so they have the confidence they need to succeed.
"It's like building a house; you start with a good foundation and work your way up," says Bates.
Now Dakota is stepping into a mentor role himself, investing his time and talent into younger members. Even though he is too old to participate in 4-H, he has continued his commitment as a volunteer. He rarely misses a shot, but when he does, it is often on purpose, to help boost the morale of the younger members.
"He has now moved from, 'All I want to do is shoot,' to actually asking me, 'Do you need some help? I'll be happy to help you out,'" says Bates about Dakota's change in attitude.
Bates considers himself lucky to have a kid like Dakota around to help with the younger members at meetings. The 4-H model focuses on balancing group learning with one-on-one time, so Dakota's support is an essential aspect of the club.
Dakota says he volunteers because he wants to pass on what he learned and how he learned it. He has also practiced putting his mentoring skills to work as a math tutor at school.
Breakthroughs like Dakota's are the reason Bates looks forward to 4-H meetings.
"All of a sudden everything comes around and they have these big smiles on their faces. That is the reward that nobody can take away from you," says Bates.
Bates knows that the shooting sports 4-H club is about so much more than just teaching kids to safely use a gun or bow. At a state training Bates attended, someone asked how to train world-class trap shooters. Bates remembers the response almost word-for-word.
"We're not training world-class shooters. Hopefully, we are training some world-class citizens."