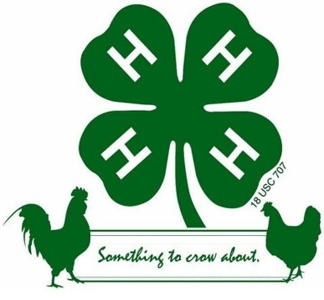 Presented by: Cody and Kayla Diss
Providing Bird Blood Testing: Michelle Rich
What to bring: 
-The birds you have entered into classes for the 4-H Show and Junior Fair
-A list of the classes you have entered with your birds
-Any questions that you may have regarding your birds in general or show related
Workshop Agenda:
-General Poultry Care
-Common Poultry Illnesses
-Showing Poultry
-Poultry Show Rules / Guidelines
-Showmanship
RSVP to the Extension Office at 815-433-0707. It's all FREE!
The Federation Fairgrounds Clean-up will be going on too.  This includes a 'potluck" lunch at 1p.m.  You must notify Extension if you plan to enjoy the potluck!