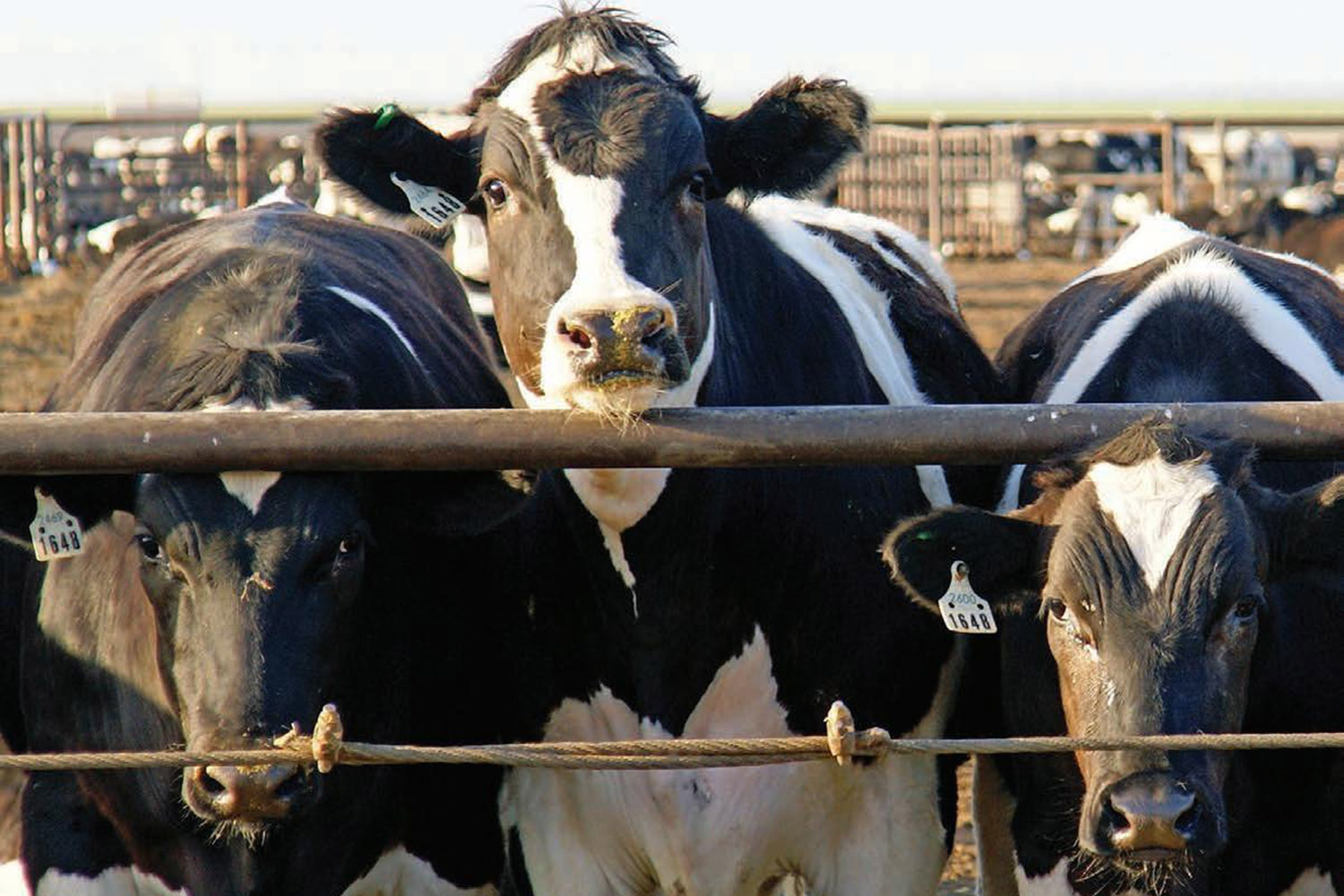 "Can we make dairy extension more scientifically sound?" That's the question that led Phil Cardoso in 2012 to develop the Dairy Focus Team at U of I.
Cardoso, then a new faculty hire in the Department of Animal Sciences with an appointment in research and extension, wanted to maximize his impact on the state's 600-odd dairy farms. Cardoso's Dairy Focus Team is revolutionizing the definition of dairy extension, not to mention turning out the next generation of leaders in the industry.
A holistic view
Cardoso says that under the former extension model for dairy, specialists would tell farmers about new university research and might make recommendations in their areas of expertise, but most weren't collecting and analyzing data from the farms to allow for tailored recommendations.
Cardoso wanted to change that. The focus was also too narrow, in his view. "If you like nutrition, you're going to talk about nutrition," Cardoso says. "You will catch everything a farmer is doing related to nutrition that is wrong. But that might not be the right first step for the farmer to improve. Say a cow has a mastitis infection—you need to resolve that first."
To broaden the approach, he created the Dairy Focus Team, a group of graduate and undergraduate students, faculty members in animal sciences, and industry leaders. The team is structured like a business, with Cardoso acting as CEO and graduate students serving as president and chairpersons for four focus areas: nutrition, reproduction, young stock, and management.
The chairpersons train and mentor undergraduate "employees" in their focus areas. Industry leaders and faculty members act as consultants. One of the team's first tasks was a massive data collection effort to provide a baseline of the dairy industry in Illinois.
Road trip!
The team spent much of the summer of 2014 in a Suburban, visiting 20 farms across the state. Upon arrival, the group would fan out, evaluating and sampling every aspect of the dairy, while Cardoso sat down with the farmer to complete a lengthy questionnaire and get copies of the farmer's data.
"They were everywhere," recalls Don Mackinson of Mackinson Dairy Farm near Pontiac, "walking through the barns, taking readings on the fans and air movement, looking at cow behavior, asking questions." Ines Rivelli Bixquert, the first president of the Dairy Focus Team, says the group would go in without preconceived notions of what a farmer might need.
Often the farmers themselves weren't aware of problems before the team showed up.
"Sometimes they thought they needed help with nutrition, but they really needed to focus on some aspect of reproduction. The process helped them to understand their farms," Rivelli Bixquert says. The visits were illuminating for more than the farmers. "We had learned the textbook examples of what should be done in a given situation, but that doesn't always work for a real farm," says Ph.D. student Sarah Morrison. "Going out there and being able to troubleshoot was eye-opening. We learned to work together and try things. That's a very important skill."
Crunching the numbers
After returning to campus, the team would come back together to discuss each farm visit. "We would go over the pictures we took, discuss all the opinions, and build up a document summarizing the strengths, weaknesses, opportunities, and threats. We identified the one to three topics that this farmer needed to know," Cardoso says.
Students processed and analyzed samples and observations, comparing the 20 farms statistically and compiling the information into reports they sent to all the farmers. The farms were categorized by region of the state and coded to provide anonymity.
The team did see a few differences between north and south, but Cardoso says the most powerful result of the analysis was the opportunity for farmers to compare farms with their neighbors. "That's what provokes change," he says. And it did. Surveys showed that more than 90 percent of the farmers planned to make changes to their practices as a result of the Dairy Focus Team's report.
"The team was very thorough," says Mark Beer of Beer's Robo Holsteins in Mascoutah. "For example, they suggested we clean the water fountains more often—instead of once a week, maybe every two or three days in summer. And they suggested we improve our dry cow facilities as far as the bedding and free stalls. It's something we kinda knew, but it was good to hear it from someone else. Their suggestion prompted us to actually do it."
Lasting impact
 The analysis of those 20 dairy farms has not just been filed away and forgotten. Instead, the results have been used to transform both the research community and the dairy industry. The 2014 project formed the basis of Rivelli Bixquert's master's thesis, which was recently published in an academic journal.
Now a Ph.D. student, Rivelli Bixquert hopes the work will inspire other dairy scientists to use data gathered in the real world, not only the carefully controlled environments that are typical for research studies. In addition, Cardoso and the team, after mining the data to identify the most common issues facing Illinois dairy farmers, created a dynamic educational platform available to all 600-odd dairy farms in the state, and beyond.
The team writes about four newsletters a year, each one brimming with research-backed information on common problems as well as detailed explanations of ways farmers can fix them. The newsletters are available on the Dairy Focus website, dairyfocus.illinois.edu, and are sent to subscribers in 17 countries.
They provide relevant information to farmers, veterinarians, and nutritionists. In addition to the newsletters, the team creates YouTube videos and dairy-focused tools that farmers can use to maximize profits.
"I don't want farmers having to go all over the place to find answers," Cardoso says. "Everything that they need, they can find here." George Czapar, Extension director and associate dean in the College of ACES, says, "Phil's work really embodies the Extension motto: 'Extending knowledge, changing lives.'"
Student legacy
For the students, the Dairy Focus Team is all about teamwork, leadership, and problem-solving, skills that will serve them well as the next generation of leaders in the dairy industry. Sarah Morrison, who wants to be a technical specialist or a research scientist in the industry, says, "I think the experience has set me up with a good set of skills different from what other applicants might have."
Rivelli Bixquert also sees herself working in industry, but she admits to falling a little bit in love with Extension work as a result of her experience with the team. "If there's a way to do industry and Extension at the same time, I would. For now, I'm in between. I want to go into industry as a researcher, but I really like the Extension."
All about the numbers
"Cardoso has developed a great model," Czapar says. "Extension has always provided research-based information, but this approach also incorporates student education and the opportunity to identify future research needs."
He continues to bring students to farms for that real-world experience and to help farmers improve their operations. And he will never give up on his mission to infuse more research into extension. Cardoso says, "We give names to cows, but what about the numbers? The approach that will return more to the farmer is the one that is data-driven."
Page Notes
these photos are responding correctly to page size changes!