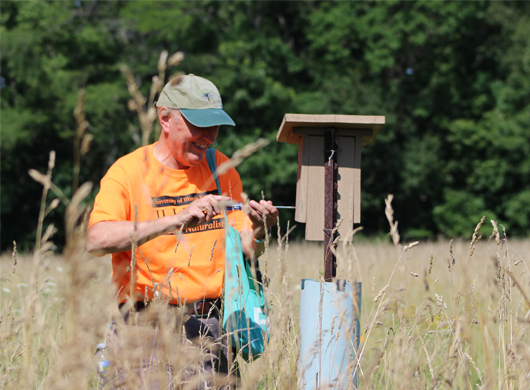 Before opening a bluebird box, Master Naturalist Clarence Josefson always knocks. This seemingly polite gesture is really an act of self-preservation, because birds can get a bit ornery when you start poking around their nests.
"One time I was attacked by 14 tree swallows, probably newly fledged ones being taught the art of attacking humans by their parents. But the event that really scared me was when I flushed a red-tailed hawk from the prairie grass," Josefson said in an account of his first year as a Master Naturalist.
"So would I do it again? Absolutely, yes!"
Josefson is a member of the Glacier's Edge Master Naturalists in Macon County where he volunteers as a bluebird trail monitor at Sand Creek Conservation Area in rural Decatur. Hiking the same trails Abraham Lincoln once did, Josefson, a nature lover and retired chemist, uses his smartphone to peek inside each box to record data about what species are building nests in them.
The Glacier's Edge volunteers are trained and coordinated through University of Illinois Extension in DeWitt, Macon and Piatt Counties, located in Central Illinois. Extension oversees the statewide Master Naturalist program which works to connect people with nature and engage environmental stewards by educating and training adult volunteers. Equipped with new knowledge and skills, these citizen scientists are able to assist with environmental conservation and restoration efforts.
"It is not only experiencing the thrill of new life in a very beautiful place, but also realizing that the work is important science, done in collaboration with many in our county and across the country as well," Clarence Josefson said. "And sharing what you observe with family, friends, and fellow box monitors is priceless."
Master Naturalist training takes place in the fall at the Macon County Extension office and the 2016 training starts September 6. For nearly three months, a series of experts lead evening classes once a week on topics such as ecology, animal species that call Illinois home, weather and climate, managing natural areas, and more.
Once they've completed the 40-hour training, the new Master Naturalists choose where they would like to apply their skills and earn their first 30 volunteer hours. Opportunities include restoring prairie habitat with the Macon County Conservation District, participating in the Illinois State spring bird count, providing educational outreach with Scovill Zoo, and teaching children how to fish. There are also special events like the annual Carolyn Mason Education Day, river cleanups, and field trips to local natural areas.
In 2015, 45 Glacier's Edge Master Naturalists volunteered 2,643 hours, which equates to a $1.3 million investment in the stewardship and interpretation of our area's natural resources. 
For more information on the Illinois Master Naturalist program visit web.extension.illinois.edu. To become a Macon County Master Naturalist, sign up for the fall training online at go.illinois.edu/dmp by August 22. You can learn more about the Glacier's Edge Master Naturalists on their website or follow them on Facebook.