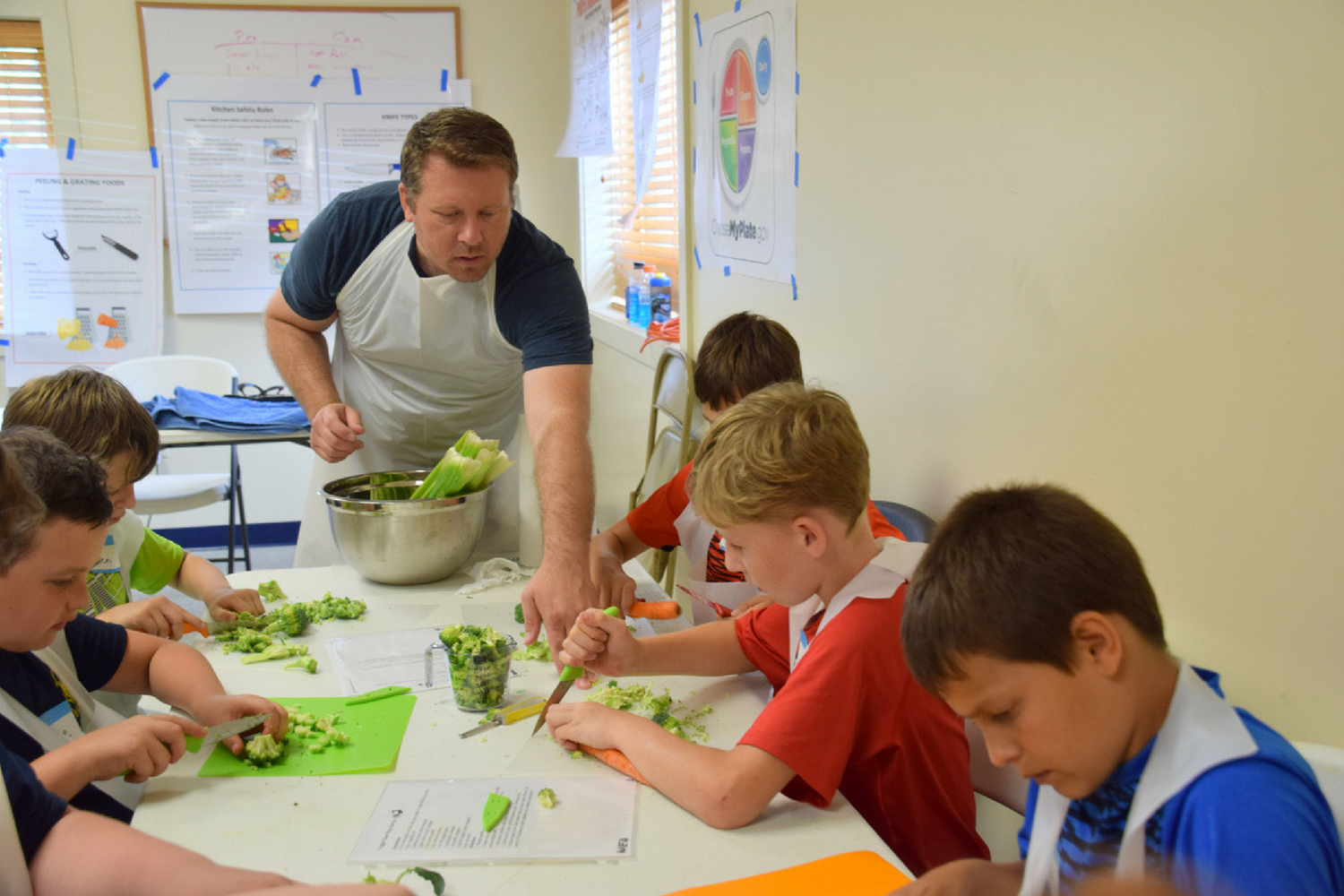 Even picky eaters who walk into a kitchen with Illinois Junior Chefs end up surprising themselves – and their families – when they leave excited to prepare healthy meals at home.
 "We heard a lot of 'I don't like this vegetable' at the beginning of class," said Erin Maxwell, a University of Illinois Extension community worker in Clay County. "We made veggie dip and brought carrots, cucumbers, and bell peppers for dipping. One of the girls said, 'I hate carrots, but I will try them.' She ate two of them! Many other children tried different vegetables and found they really liked them – even though they initially thought differently."
Illinois Junior Chefs is an award-winning program developed by University of Illinois Extension's Illinois Nutrition Education Programs (INEP) in 2015. More than eight in ten participants say they improve their cooking skills and feel more successful in the kitchen, and three in four say they have a greater appreciation for fruits, vegetables, and healthy eating after completing the series.
"We created Illinois Junior Chefs because we saw a need for providing more hands-on cooking experience in addition to the nutrition education piece in our youth programming," said Vicki Rowe, curriculum and training coordinator for INEP. Children aged 8 to 13 years old can enroll in the ten-hour series, which typically takes place over five days. INEP team members lead the hands-on classes with assistance in select counties from Illinois 4-H teen teachers.
Each class focused on a nutrition topic using MyPlate food groups and an important kitchen skill, such as measuring liquid and dry ingredients, using a knife, or cracking an egg. Classes prepared one to two recipes each day to bring together the nutrition topic and practice newly learned skills. For example, during the lesson focused on protein and cracking eggs, classes cooked recipes such as Huevos Rancheros and Eggs-actly Right Eggs. At the end of the series, they received a cookbook featuring many recipes to share with their families at home.
Jessica Metcalfe, research coordinator for Illinois Junior Chefs, says the program creates a statistically significant impact on youths' ability to perform all skills assessed: using a peeler, using a grater, cracking eggs, measuring, and mixing.
A father of two attendees said, "They love the recipes and cookbooks [from the classes]. They cooked and devoured the Summer Chili, and made lists of groceries to try more recipes at home."
By collaborating with outside organizations and offering the classes at the local Extension offices, Illinois Junior Chefs hasreached over 4,000 youth participants at over 150 locations since the beginning of 2018. One of the program's partners said, "We've received extremely positive feedback from both youth and parents, and are looking forward to providing Illinois Junior Chefs to the families we serve for years to come."
For more information about Illinois Junior Chefs, please contact Vicki Rowe at vrowe@illinois.edu.