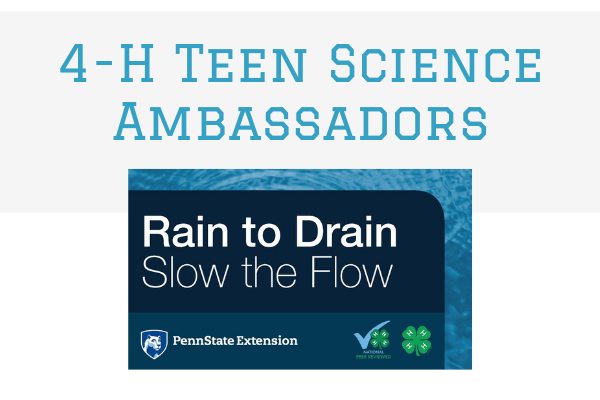 Join us Nov. 9 to explore environmental science with a hands-on stormwater activity from Penn State Extension, and to learn more about the 4-H Teen Science Ambassadors program!
Throughout the year, 4-H Science Ambassadors meet and learn various STEM activities that highlight topics such as computer science & coding, health & nutrition, physics, aerospace, engineering, electronics, biotechnology, and environmental science, just to name a few. They then share those projects with others through supervised, organized activities. Designed for youth in grades 6 to 12.
Cost: $15 per youth for the November training/meeting
If you choose to join 4-H Teen Science Ambassadors for the 2019-2020 year, there also is a $20 annual enrollment fee per youth to cover the program year.

If you already attended an October training meeting and paid the $15 per youth, no need to register in order to attend. Hope to see you Nov. 9!
Event Time
2:30 PM - 4:00 PM
Location
University of Illinois Extension of DuPage County, 1100 E. Warrenville Road, Suite 170, Naperville IL 60563