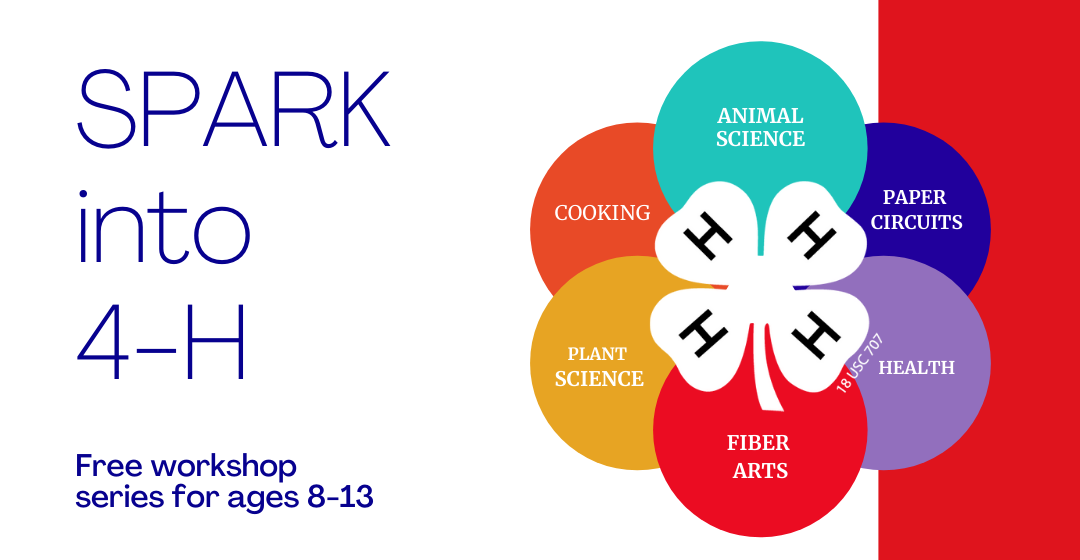 SPARK into 4-H  -  Virtual Program via ZOOM for Youth ages 8 - 13
Time: All sessions will be from 4:00-4:30 PM on the date listed.
These interactive, hands-on sessions will cover a wide variety of topics and will bring young people together (virtually) to learn new skills and discover new passions.
SPARK into 4-H is free! All sessions will be held on Zoom and connection details will be emailed out to those registered. Most sessions also include a supply kit that will be mailed to your home a few days prior to the session.
The registration deadline is one week prior to the session to allow time for mailing your kits.
Separate registrations for each session is required.
January 13, 2021: Animal Science - In this lesson, youth will learn the parts of an egg and the stages of chicken growth.  We will also take a virtual field trip to learn how eggs get from the farm to our table! No supply kit needed.  You will need the following from your own kitchen: an egg, bowl, and toothpick. Register for January Session
OTHER SESSIONS IN THIS SERIES:
February 17, 2021: Paper Circuits - During this lesson youth will be introduced to the basics of electricity and how circuits work. Using copper tape, watch batteries, coloring pages, and LED lights, attendees will create a bright and colorful piece of art. The supply kit will be mailed to you.  Register for February Session