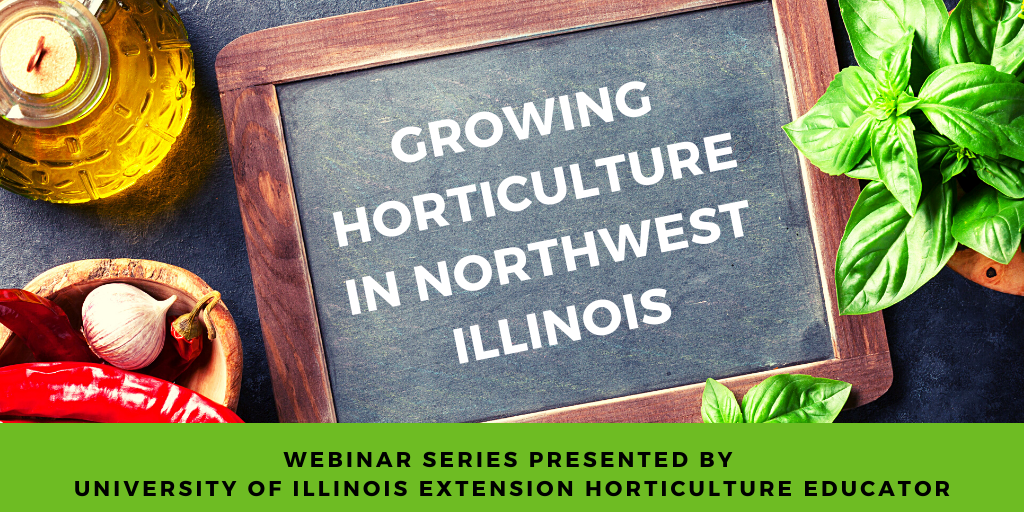 Creating Bottle Terrariums
Explore the enclosed world of bottle terrariums, the self-contained plant environments within glass. Join Horticulture Educator Bruce Black to explore terrariums, their needs, and how to create a bottle version of a terrarium
Growing Horticulture in Northwest Illinois Webinar Series
University of Illinois Extension is pleased to announce a free webinar series, Growing Horticulture in Northwest Illinois on Wednesdays starting April 28, 2021 at 5:30 p.m. delivered using Zoom. Illinois Extension Horticulture Educator Bruce J. Black, will teach these webinars. Growing Horticulture in Northwest Illinois is for anyone interested in learning more about gardening, growing food in a home or community garden or looking for ideas for the upcoming growing season.  
If you need a reasonable accommodation to participate in these programs, please contact Bruce Black at brucejb@illinois.edu. Early requests are strongly encouraged to allow sufficient time for meeting your access needs. Registration is required for these free, online webinars. 
More webinars in the series
April 28: Kitchen Propagation
Propagation is one of the greatest plant skills to know. What could be better than making a new plant? During this session, we will discuss basics of propagation, why it works, and talk kitchen scrap gardening. 
March 5: Growing and Preserving Herbs
Simple and easy to grow, fresh herbs are wonderful to have in a garden or a container. During this session we will talk about types of herbs, growing recommendations for them, and how to harvest and preserve your herbs.
March 12: Strawberries
The most popular of backyard fruits. Strawberries can be a gift of sweetness every June or during the whole season. During this session, we will talk types of strawberries and their different management techniques to keep them producing.
March 19: Creating Bottle Terrariums
Explore the enclosed world of bottle terrariums, the self-contained plant environments within glass. Join Horticulture Educator Bruce Black to explore terrariums, their needs, and how to create a bottle version of a terrarium.