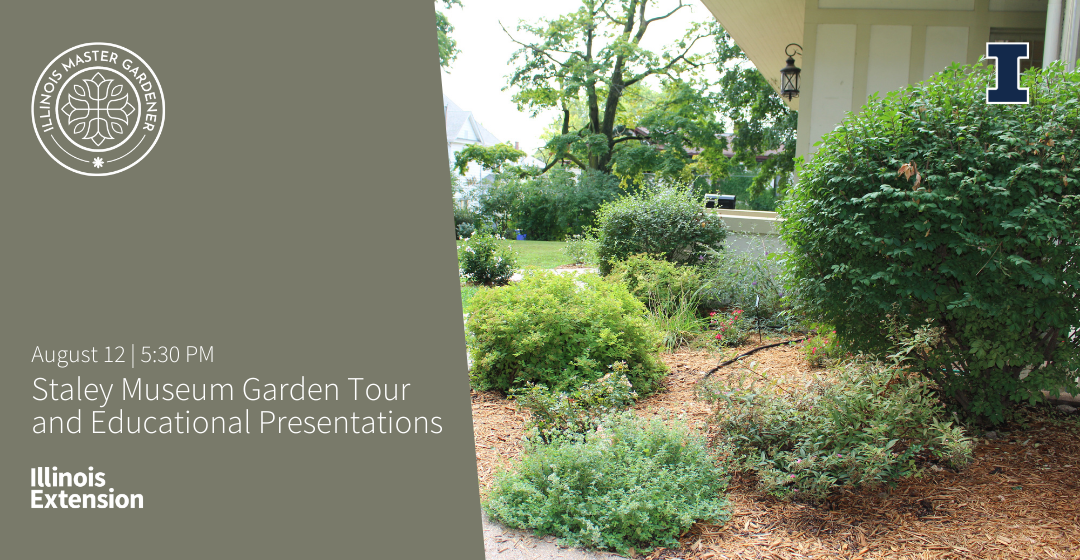 Join the Master Gardeners on a garden tour of the Staley Mansion Gardens.
They have created a presentation on the history of the gardens with a focus on roses! Horticulture Educator, Sarah Vogel, will discuss methods gardeners can employ to mitigate the spread of invasive species.

Upon arrival, please meet at the front of the building on the Staley Mansion lawn.
Registration deadline is August 10.
 
Please email or call Julia Duncan at 217.877.6042 with questions. 
If you need a reasonable accommodation to participate, please contact the event coordinator or call 217.877.6042. Early requests are strongly encouraged to allow sufficient time to meet your needs, when possible.
We value your health and safety.  The University will require all university staff, faculty, and visitors to wear face coverings in university spaces indoors, regardless of vaccination status. "Fully vaccinated" means 14 days after their final dose. People who are not fully vaccinated are required to wear a face covering in university spaces indoors, as well as outdoors when they cannot practice social distancing.
If you feel uncomfortable with not wearing a mask outdoors, you are welcome to continue to do so, however it is not required for vaccinated individuals. Children 12 and under are still required to wear a mask under University Guidelines. 
This is subject to change under change of policy, but participants will be notified the day of the event if a change occurs.