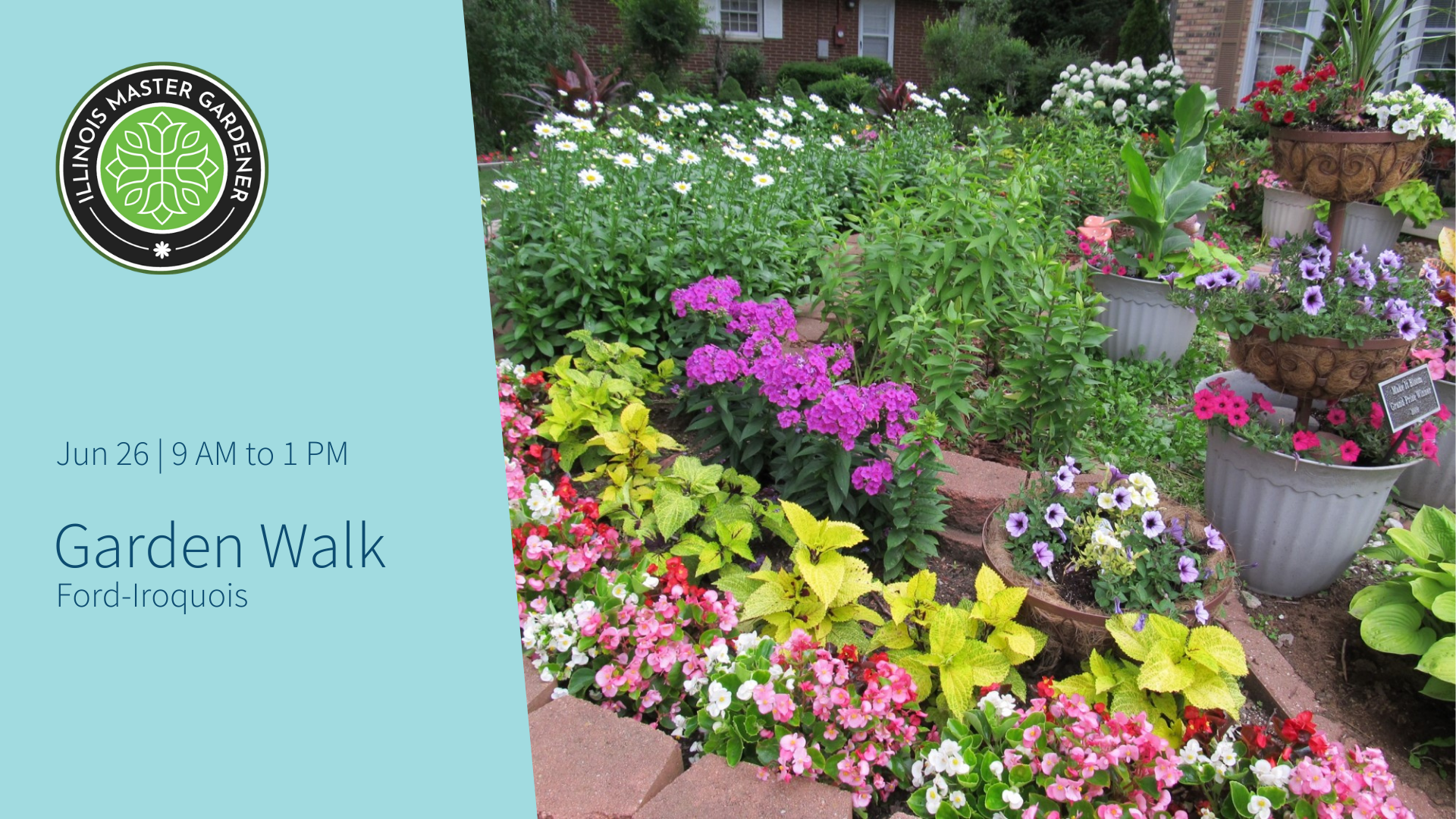 Join the Ford Iroquois Master Gardeners for their Garden Walk on Saturday, June 26, 2021, from 9 am- 1 pm
The first stop on the walk is at the Harlow's. When asked to describe their landscape design, they replied, 'Garden Bliss'. This home features ferns gracing a long fence at the back of the house. Numerous perennials, shrubs, groundcovers, and trellises plus a variety of hydrangeas bring color and beauty to their garden.
 The second garden has a contemporary Oriental theme. Beautiful foliage stands out with a wide variety of sedums in different colors, textures and sizes. The owners enjoy the butterflies that are attracted to the different blooms in late summer. Special features include lanterns and statues. 
 The next garden began with plants brought from Kentucky and a family farm in the country. There is a wide variety of trees planted for Arbor Day many years ago. The theme of this garden is 'Landscaping with an Artistic Flair' inspired by landscaper, Jon Gross. Special features include statues of angels and animals, shade plants, antique clay pots, and artistic brick landscaping by Jon Gross.
 The fourth private garden has evolved over the last 30 years. They couldn't travel and wanted the feel of a vacation retreat when they stepped outside. Favorite plants include hydrangeas, phlox, begonias, daylilies, sedum, and roses. Special features include a small pond filled with lilies and a waterfall. Many of the rocks in and around the pond are from their grandfather's farm.
 In addition to the private homes on the walk, ticket holders will have a unique opportunity to walk through the Loda Prairie. The Loda Cemetery Prairie Preserve is a high-quality mesic black soil native tallgrass prairie that contains 130 species of native prairie plants. It includes the Eastern Prairie Fringed Orchid, a federally endangered flower. Special features of the prairie include native and heirloom plants. The Prairie Cicada has a presence here in middle to late summer and there is an observation deck. Before the State of Illinois became a predominantly agricultural state, 60%-22 million acres-was once prairie. Today, less than 1% of the land is original prairie, mostly along railroad tracks and adjacent to cemeteries. The Loda Cemetery Prairie Preserve offers an opportunity to see how Illinois looked many, many years ago..
 The Garden Walk is a lovely way to spend a summer day and gain inspiration for your own landscape.
There is no fee to enjoy the garden-themed vendors located near the registration table at Bayles Lake. Vendors will all be available from 9 am to 1 pm 
Succulents with Schuren Nursery
Timber View Flower Farm
Outdoor Pro Landscapes
Plants with Garden Essentials
Baked Goods and more with Bev Koester
Garden Art with Evie Ferry
Bill Baird Garden Merchandise
Garden Walk tickets are $10.00 and available for purchase by cash or check at the Extension Offices in Onarga 815-268-4051 916 West Seminary Ave., Champaign 801 N Country Fair Drive, Champaign 217-333-7672 and the Vermilion County Extension Office in Danville 3164 North Vermilion, 217-442-8615.
Tickets will be available at the Doris Memorial Robinson Memorial Pavilion at Bayles Lake on the day of the walk by cash or check. 
 Your ticket with map will be available for pick-up at the Doris Robinson Memorial Pavilion on Saturday, June 26, 8:30 am -12:30 pm.
From Rte 57 traveling north.
Take the Paxton Exit #261, turn East at the stop sign at Rt 9.
Follow it to the first stop sign and turn right. Go over the RR bridge turn left at Rt 45.
Go North about 5 miles to Loda. Turn left at Washington Street. There is a sign indicating Bayles Lake.
Follow this road west to the East Entrance of Bayles Lake and look for Sunrise Drive.
 If you are coming south on Rte 57 take the Buckley exit to Rte45 South and continue as directed above.
The Garden Walk is Rain or Shine. Regretfully, we are unable to offer refunds or mail tickets.
Proceeds from the Garden Walk fund Master Gardener involvement and educational programs at community garden projects in Ford-Iroquois Counties.
Thank you for supporting the University of IL Extension Ford-Iroquois Master Gardeners.