2019-2020 Program
Our local outdoor skills and shooting sports programs help youth get outdoors, explore their interests, and build life skills such as responsibility, decision making, discipline, goal setting, teamwork and safety.
Youth in outdoor skills learn a variety of abilities such as compass use, basic survival skills, wilderness planning and packing, and basic first aid. Youth in the various shooting sports disciplines learn archery or firearm safety and responsible handling and use. Shooting sports programming is run by caring adult volunteers, who are certified instructors in their disciplines.
Shooting sports is run on a unit basis, which means that it is open to all enrolled 4-H members in DuPage, Kane or Kendall Counties. In addition to the 4-H enrollment fee, youth who participate in shooting sports pay an additional materials fee (typically $25 per discipline). Note: Youth aged 8-18 (by Sept. 1, 2019) can participate in archery, air rifle and outdoor skills. Youth must be at least 10 years old to participate in shotgun.
Our unit currently offers or is planning to offer the following disciplines (depending on interest) for the 2019-2020 4-H year:
Outdoor Skills (Meets at various sites in Kendall County)
Air Rifle (Meets in Yorkville for spring, summer and fall. Winter location to be determined)
Archery (Meets at the Kane County Fairgrounds)
Shotgun (New! Location to be determined)
Air Pistol (New! Meets at Kendall County Fairgrounds)
Some of our disciplines meet year-round, while others meet for a shorter season.  If you are interested in learning more about these programs, or want to receive emails about meetings, please complete this interest list form.
4-H Everyday Sportsman's Skills Challenge
DuPage, Kane and Kendall county youth ages 8 to 18 are invited to improve their outdoor skills from home by participating in the Illinois 4-H Everyday Sportsman's Skills Challenge. In this activity, youth learn various skills (like telling directions without a compass) while exploring provided internet resources, then applying their learning with practice. Once a member feels they've mastered each skill, one of our local 4-H leaders will test their knowledge via video or phone call. Each youth who completes a level will have their name entered into a random drawing. Ten winners will be drawn on July 15, 2020 for a high quality 4-H Everyday Sportsman's Multi-Tool!
If you're interested in participating, check out Level 1 at https://go.illinois.edu/4HdkkSportsmanChallengeLevel1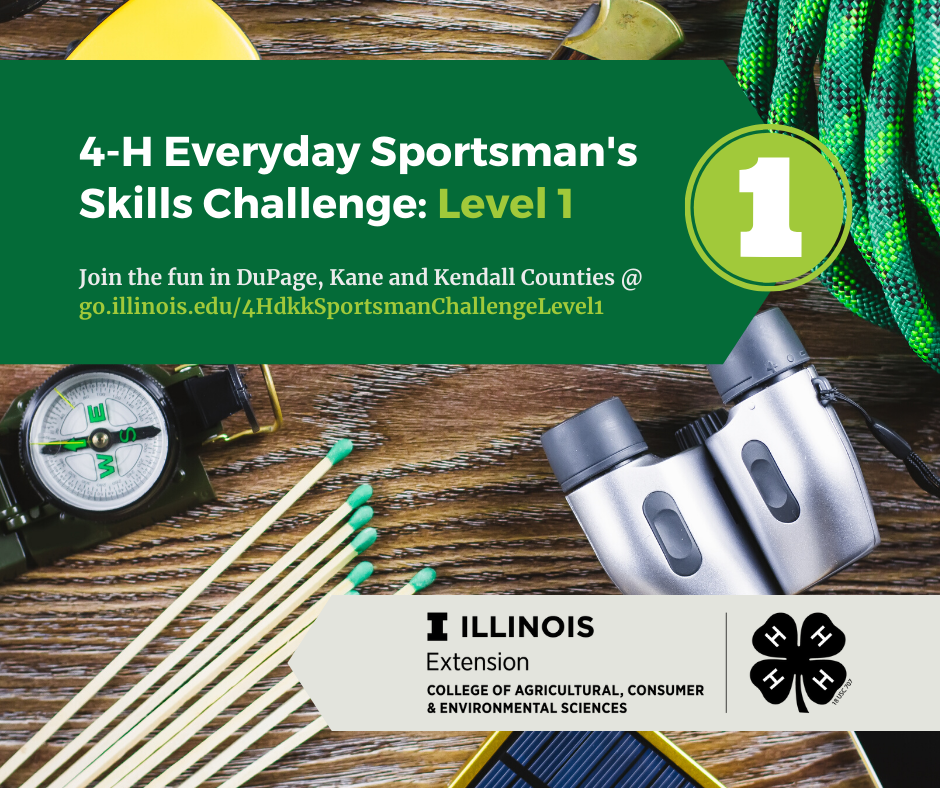 Extension Educator, 4-H and Youth Development