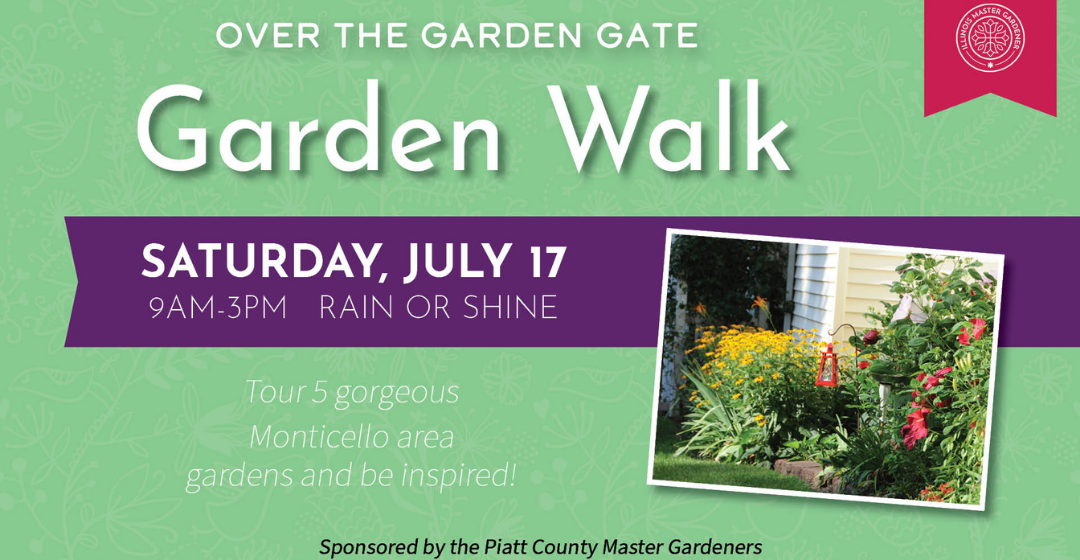 Explore five Monticello gardens with the Piatt County Master Gardener Over the Gate Garden Walk. Stroll through vegetable gardens, creative designs, and native landscaping up close. You can also get gardening information you can trust from the Master Gardeners.

The Garden Walk will take place rain or shine.
Tickets are $10 in advance or $12 the day of the walk. Preorder your tickets by July 15 online.
Pre-ordered tickets can be picked up the day of the event at Wabash Depot, 200 E. Livingston St., or before July 16, at one of the following locations:
Piatt Extension Office, 210 S. Market St., Monticello, IL
DeWitt Extension Office, 8425 Katie Rd., Clinton, IL
Macon Extension Office, 3351 N. President Howard Brown Blvd, Decatur, IL
On the day of the event, tickets will be available for purchase starting at 9 a.m. at the Wabash Depot, 200 E. Livingston St.

Garden Walk tickets will also be available at these Monticello businesses beginning May 19:
Boka Shoppe, 309 S. Market St.
Brown Bag, 212 W. Washington St.
Cabbage Rose, 121 N. State St.
Monticello Mercantile, 116 E. Main St.
Out of the Blue Polish Pottery, 3 Livingston St.
Holly's Country Kitchen, 1204 Bear Lane
Salon 101, 101 N. Macon St. in Bement

The Garden Walk is sponsored by the Piatt County Master Gardeners.
Deadline to register is July 15.
Email Beth Miglin or call 217.762.2191 with questions.
If you need a reasonable accommodation to participate, please contact the event coordinator or call 217.762.2191. Early requests are strongly encouraged to allow sufficient time to meet your needs, when possible.