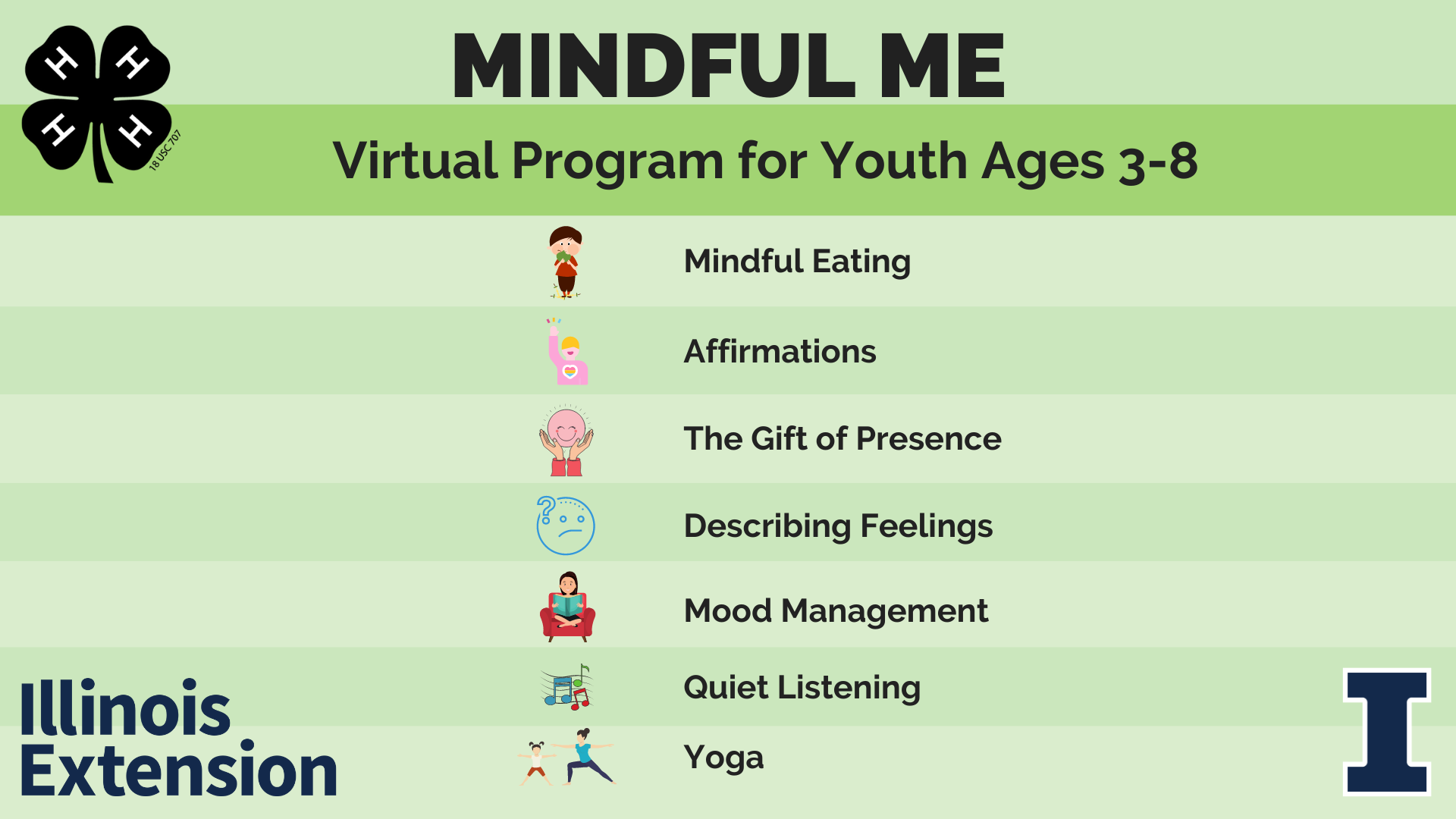 In this ZOOM series, offered in conjunction with the Marshall Public Library, 4-H Youth Development Educator Susan Sloop will begin each lesson by reading aloud a story to introduce various concepts of mindfulness. After reading the story we will do an activity together, virtually of course! Once you register you will receive an email a week prior to the lesson with a list of materials that are needed for the hands-on activity.
Lesson 2: December 16, 2020 -  Practicing mindfulness includes how we choose to interact with others.  It is important to understand that how we choose to treat people impacts us too!  In this session, we will read "Have You Filled a Bucket Today" and create cards to learn about how affirmations can help "fill" others and make them feel good about themselves.
OTHER SESSIONS IN THIS SERIES:
Lesson 3: January 12, 2021 - Being in the present means not thinking about the past or the future but just focusing on this very moment.  We will read  "What Does it Mean to be Present" and then practice being in the moment by using our observation skills!
Lesson 4: February 17, 2021 - Feelings come and go and it is helpful to be able to recognize and describe them.  In this session, we will read "Visiting Feelings" and will learn that being able to name and describe how we feel can help us feel comfortable with our feelings.
Lesson 5: March 23, 2021 - Have you ever had a visiting feeling that just will not go away?  Sometimes it is a challenge, but we can do things to help us manage our moods and feel better!  We will read "Moody Cow Meditates" and develop a tool to help us calm down and focus when we are feeling down.
Lesson 6: April 12, 2021 - We live in a loud world!  Making time to be quiet is one way to be mindful of our surroundings and thoughts.  In this session, we will read "Charlotte and the Quiet Place" and discover what our own quiet place might look like. 
Lesson 7: May 11, 2021 - Yoga is a great way to practice mindfulness because it engages our bodies and minds.  As we read "I am Yoga" we will move through some yoga poses together and pick our favorite ones!
If you are unable to attend sessions live, please email ssloop@illinois.edu for a link to recorded sessions.