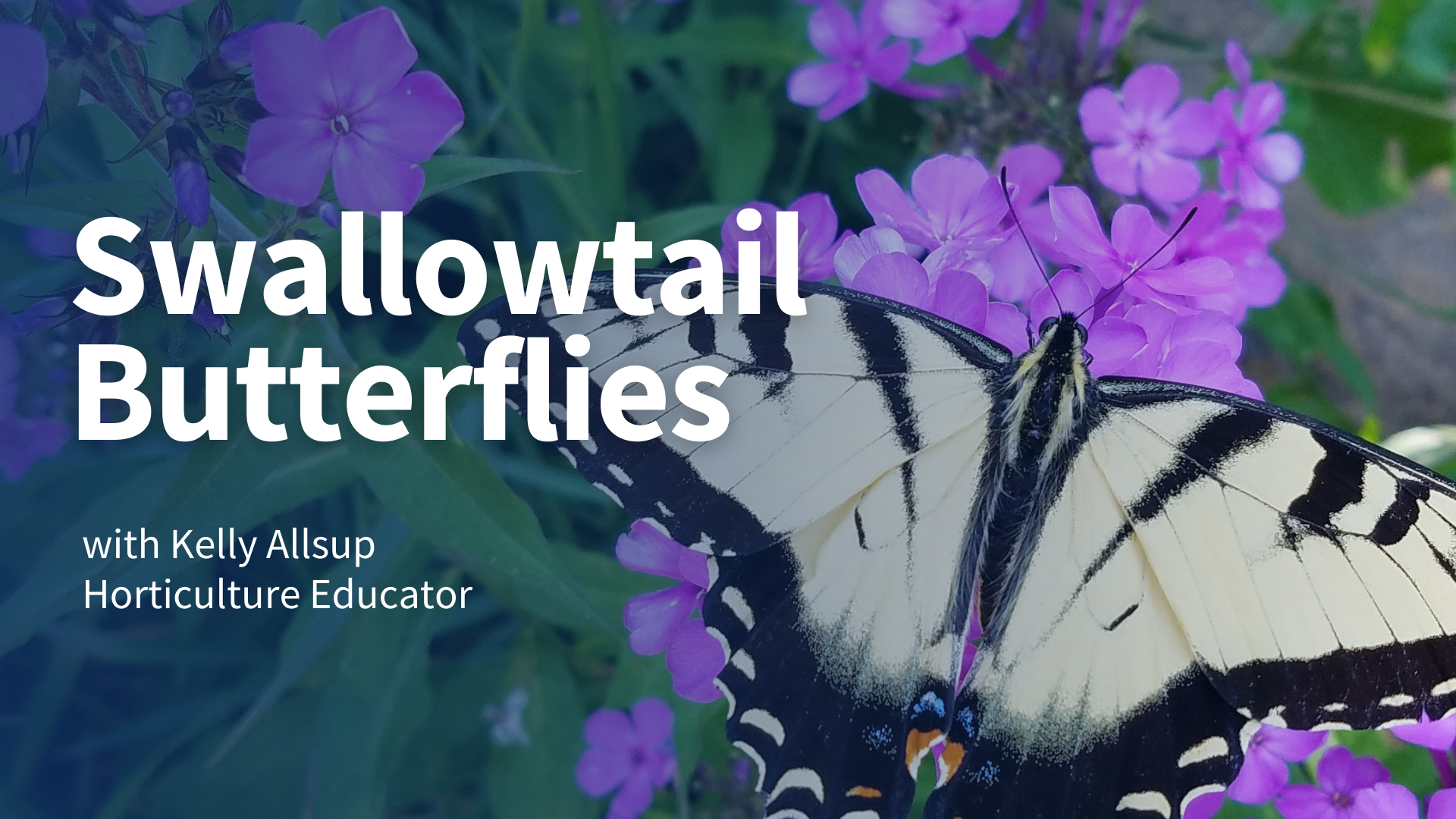 Join Kelly Allsup, University of Illinois Extension Horticulture Educator, on Monday, June 14 @ Noon CDT via Zoom to learn about swallowtail butterflies just ahead of National Pollinator Week.  
A recent study tracking butterfly abundance in Ohio over the last 20 years has discovered a 33% decline. We can only assume that in Illinois we have similar patterns in decline in our butterfly populations. Scientists believe the decline may be attributed to climate change, habitat degradation, and agricultural practices.
We know we have to plant milkweed for monarchs but what about the other 149 butterfly species in Illinois. With this presentation, Kelly will tell you what plants need to be put in your garden to help 6 species of swallowtail butterfly caterpillars. She will also describe their life cycle and how to identify them. Here is the handout of 4 of the 6 swallowtails we will cover in the presentation. If you plant certain plants, you can increase the swallowtail butterfly habitat in your own garden. 
Kelly wants you to grow parsley for Black Swallowtail caterpillars, Check out my latest blog post
A little about our Speaker: Kelly Allsup is a Horticulture Educator for University of Illinois Extension serving Livingston, McLean, and Woodford Counties. She meets the educational needs of her community, including local chapters of Master Gardener and Master Naturalist volunteers, through expertise in home horticulture and entomology. Her passion for ecologically friendly gardening and all things plants makes her a dynamic speaker on topics that range from beneficial insects, growing vegetables and fruits, to urban trees. A graduate of University of Illinois, she is fervent about connecting the latest horticulture research to the communities she serves so that they may grow more food and conserve the environment.
This program is brought to you by our University of Illinois Extension Master Naturalist volunteers. Our East Central Illinois Master Naturalist mission is to develop an expanding corps of well-educated volunteers to provide service and support for partnering organizations in the conservation, restoration, management, and interpretation of natural resources and natural areas in East Central Illinois. Sessions will be recorded and available on our YouTube Channel. Find more at https://go.illinois.edu/ECIMN
This event is free and open to the public. If you need reasonable accommodations, please call Randy at 217-333-7672