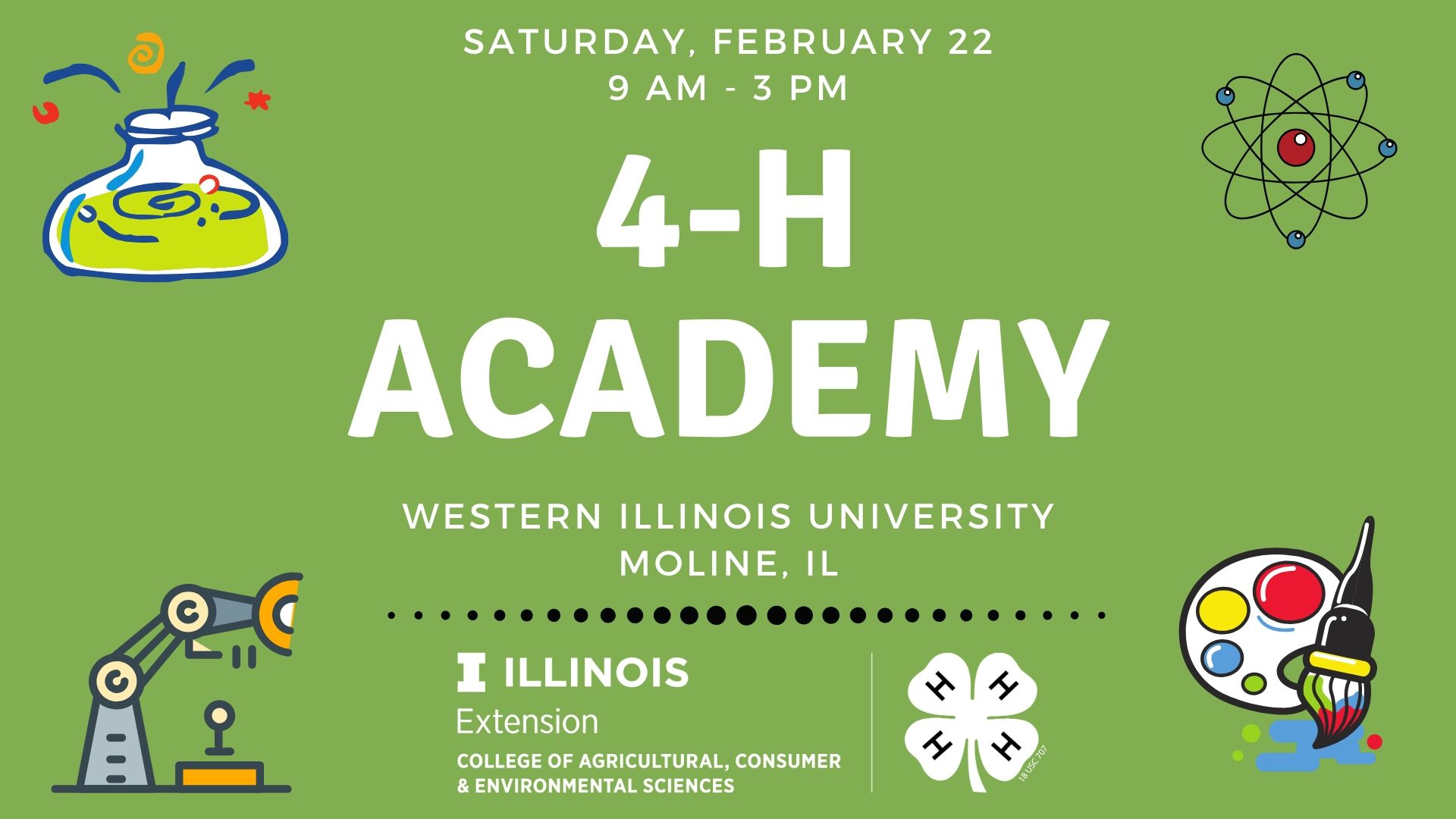 Don't miss this day of interactive fun and learning with 4-H! You'll get to choose from 9 different topics as you select 4 hands-on workshops where you can explore a wide variety of topics. Learn from some of our area's most knowledgeable presenters including: The Putnam Museum, Nahant Marsh, the National Weather Service, the Red Cross and experienced teachers. 4-H Teens will also be on hand to lead you to your sessions, assist our presenters, and to share fun, interactive team-building games after our pizza party lunch! 4-H Academy is a GREAT way to spend a wintry Saturday!
The cost to attend the program is $5 for youth enrolled in 4-H and $10 for non-members. It is open to all youth ages 8 and older. Doors open at 9 am for registration. The first session starts at 9:30, the last session ends at 2:30 pm.
We hope you will join us! Sessions have different capacity for enrollment and most sessions are offered twice. All sessions are offered on a first-come, first-served basis. Registration will close Feb 14 or sooner if classes are filled to capacity.
Sessions topics include:
Science Alive! Physics (Putnam Museum) Demonstrations & explanations galore! Students will experiment with Bernoulli Blowers, Newton's Beads and a variety of inertia activities.
Turtles in a Nutshell (Nahant Marsh) In this interactive program about turtle research, students will study turtle shells and collect data just like a real scientist. Students will also learn about the importance of wetlands and how critical they are to various plants and wildlife, including turtles.  

Weather Exploration! (NWS)  Weather impacts the lives of every person every day, from the temperature to whether it will rain or snow. Come visit forecasters from the National Weather Service Office in the Quad Cities as they interactively teach about weather. Learn how forecasts are developed, what warnings mean, the importance of weather spotting networks, and the skills you need to become a meteorologist.  
Macramé (Carma & Michelle Chavez) During this fun DIY session you'll get to learn the craft of macramé as you learn knotting cord patterns to make a decorative jar. 
The Pillowcase Project (The Red Cross)  Students will go through different modules on specific types of emergencies and create their very own emergency kit.

Painting Workshop (Painting for a Purpose) In this DIY session, you'll be guided step by step through the process to paint your own unique version of a Fox. 
Art Station: TITAN (Putnam Museum) Students navigate through the thick, planet-like atmosphere and icy terrain of Saturn's largest moon in this science-based, art-guided demonstration. Discover a vast network of rivers and oceans while creating a scientific illustration of Titan's moonscape
Food Science (Candy Tschappat, 5 & 6 Grade Teacher) Calling all food scientists!: Can you create a new healthy beverage that kids will like? In this session you will take on the role of a  scientist who is researching and developing a low sugar, high nutrient juice that will tantalize kids' taste buds!
& Another Food Science session: What are the leavening agents used in making bread? In this session you will take on the role of a food scientist as you observe and gather data and use what you learn to bake up some pleasing pretzels.
I-74 Bridge Explorations (Kent Buckrop, science teacher) Students will learn about the new I74 bridge and using Knex will problem solve and engineer a similar bridge.
Video Game Design for youth in 4th - 6th grades (Sanchia Sommer, science teacher & 4-H Tech Wizards) This is a 2-hour session so don't pick a session IV
Become the writer, artist, designer and developer of your own interactive stories. Bring your games to life with the all-new Bloxels. It all starts with an idea. Using the Bloxels gameboard and blocks, students create their own 13-bit layouts, characters, and art for their game.
Natural Birdhouse DIY (Tracy Fowler-Pestle, 4-H coordinator) In this fun DIY craft session you'll get to make a natural birdhouse from a selection of gourds and decorate your creation.
Support for this event is provided, in part, by the Mercer County Extension & 4-H Foundation and the Rock Island County Extension & 4-H Education Foundation.
Location
Western Illinois University, 3300 River Dr, Moline, IL 61265