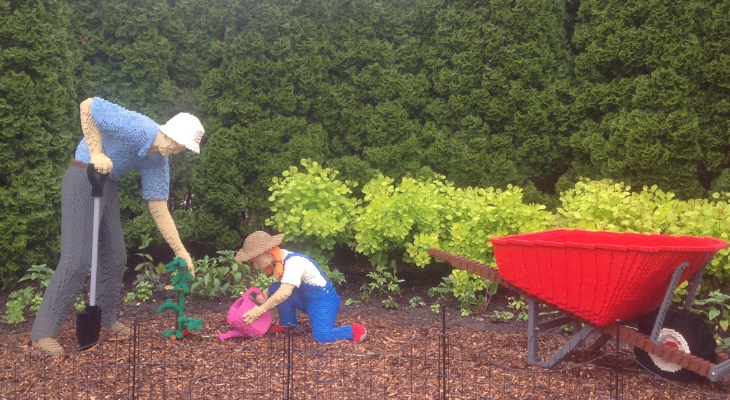 Six Garden Gifts 
Gardening is a mindful practice that can only be sourced outside in the fresh air, with your hands in the dirt, creating a pallet of flowers and fruits. This past year, many new gardeners tested their skills while experienced gardeners stretched theirs. This year, gift the must-have gardening tools of the trade. 
Garden Gloves: Sometimes we don't want our hands in the actual dirt. Gardeners need gloves that that are textured on one side and breathable on the other, waterproof, snug and brightly colored. Bright, bold colors on tools are easy to find in the landscape if they are lost.  
Garden Hat: Flaps that cover the neck and ears are a must. Step up the protection with a net that folds down to cover the face in order to fend off buffalo gnats, hover flies, and mosquitoes.  
Soil Knife: Also known as a weeding knife, the narrow trowel-like tool that can pop out the weeds in the soft spring soil, and measure how deep to plant the bulbs in the fall will quickly become a favorite tool of the gardener in your life. The knife allows you to get deep in the soil to the roots of larger weeds in the summer. 
Long-Handled Hoes: All gardeners would will appreciate a shuffle hoe or Dutch garden hoe, which allow you to uproot small weed seedlings without bending over.  
LED Lighting. Succulents are more likely killed by overwatering rather than under watering, but the lack of light in the winter can really strain these commonly-gifted plants. LED lights help succulents stay healthy in winter. 
Bird Feeding Package: include a bird feeder, food, identification book, and journal. Help your gardener grow a greater connection to the outside by journaling their bird sightings. The feeding station should be nestled into the garden or landscape to provide cover for the birds. Chicago Botanic Garden says black oil sunflower seed attracts a variety of birds, thistle seed is attractive to finches, and suet feeders will attract woodpeckers. Once the gardener starts tracking their bird visitors, they will be able to refine their bird seed choices. A bird guide specific to Illinois or bird identification app would help gardeners make entries into their journals. A heated water bath would take and existing birder to the next level and attract birds that may not come to the feeders. An alternative gift celebrating birds could be hummingbird feeders for gardeners to put out in spring. Attached a tag with how to make liquid food found on the National Audubon Society website.