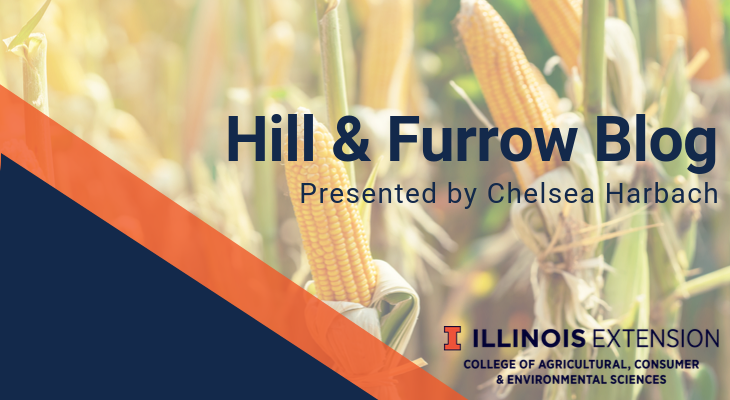 Hello! My name is Chelsea Harbach and I am the new commercial agriculture Extension educator located at the Northwestern Illinois Research and Demonstration Center outside of Monmouth, Illinois. 
I come to you from "out west" in Ames, Iowa where I lived for four years while working on my Ph.D. at Iowa State University in the Department of Plant Pathology and Microbiology. While there, I worked in Professor Greg Tylka's soybean cyst nematode laboratory. My research projected centered around answering the questions of if and how cover crops affect soybean cyst nematode population densities. More to come on that later! 
Prior to Iowa, I grew up and attended school in Illinois. I come from a family farm in northwest Illinois in Jo Daviess County. My grandpa started the farm in the 1960s and it quickly became a family operation as my dad and uncle joined the farm. I guess you could say that I have strong "roots" in agriculture. I earned an undergraduate degree from the University of Illinois Urbana-Champaign, majoring in Crop Sciences. During that period, I found my passion for plant pathology. I pursued a masters degree from the same university with a focus on plant pathology. I worked on green stem disorder, Sclerotinia stem rot (white mold) and Cercospora leaf blight in soybeans in Dr. Glen Hartman's laboratory. While working on my masters, I also spent a summer as a diagnostician in the University of Illinois Plant Clinic. 
I am so happy to be back in Illinois, serving with the University of Illinois (I bleed orange and blue). Serving in Extension has been a career goal of mine, and I am looking forward to creating programming that will benefit the farmers as well as the agricultural industry of Illinois. Thank you for welcoming me and I look forward to meeting you! 
You can follow me on Twitter @chelseaharbach and contact me via email: harbach2@illinois.edu or phone: 309-734-1098