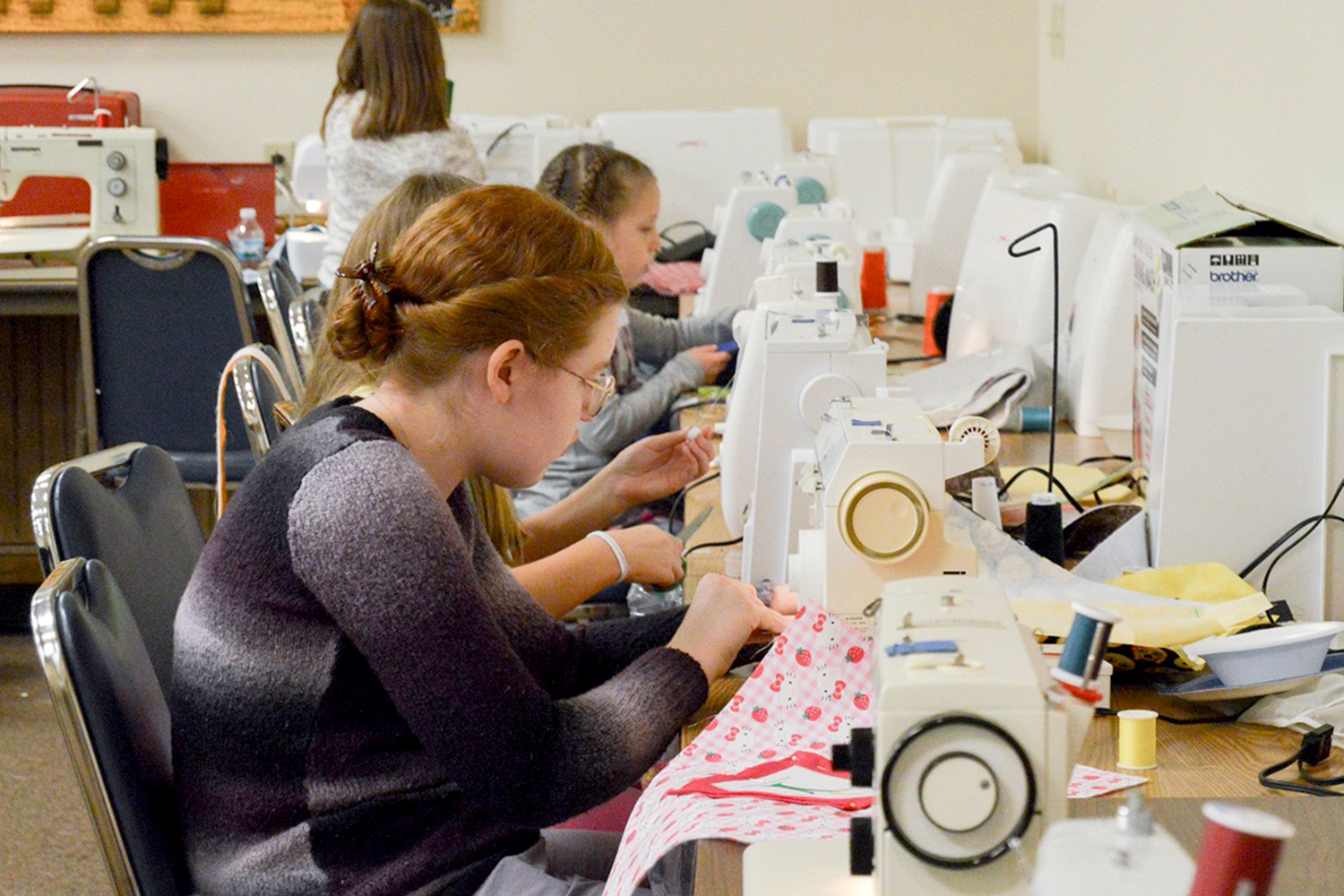 CHAMPAIGN, Ill. - Every year, nearly 250,000 youth worldwide are diagnosed with a form of childhood cancer. Undergoing a cure for this illness is daunting for any child, cycling between boredom as they wait for treatments to exhaustion as they recover.
Fifty 4-H members, leaders and friends in Champaign County recently stepped in to help their peers by providing comforting items as they travel on the road to recovery.
This year, the Champaign Mixed Clovers 4-H Club hosted its eleventh annual "Kids Helping Kids" sew-a-thon on November 4 at the Champaign County Extension Auditorium. 4-H youth from clubs throughout Champaign County came together to make 20 bags, 25 pillowcases and 12 tied-fleece blankets for pediatric cancer patients and neonatal babies in Illinois. 
"It's not just our club, it's any 4-H group that wants to come," said Gabe Yallaly, vice president for the Champaign Mixed Clovers, visibly pleased as he looked around at the gathering. "It's been fun talking to people from the other groups."
In anticipation of this year's project, event coordinator and Champaign Mixed Clovers 4-H Club leader Linda Thiele evaluated the needs of the community and worked with the kids to find a good fit. In the past, the youth sewed hats and scarves to donate to area schools for those who could not afford to purchase new ones.
However, because schools are requesting less of these items coupled with the increasing price of fleece, Thiele discovered another project through a community member's suggestion, Sadie's Dream for a Cure. The charity delivers bags and pillowcases filled with toys, games and snacks to childhood cancer patients. Thiele saw collaborating with this organization as the perfect opportunity to continue the process of kids helping kids.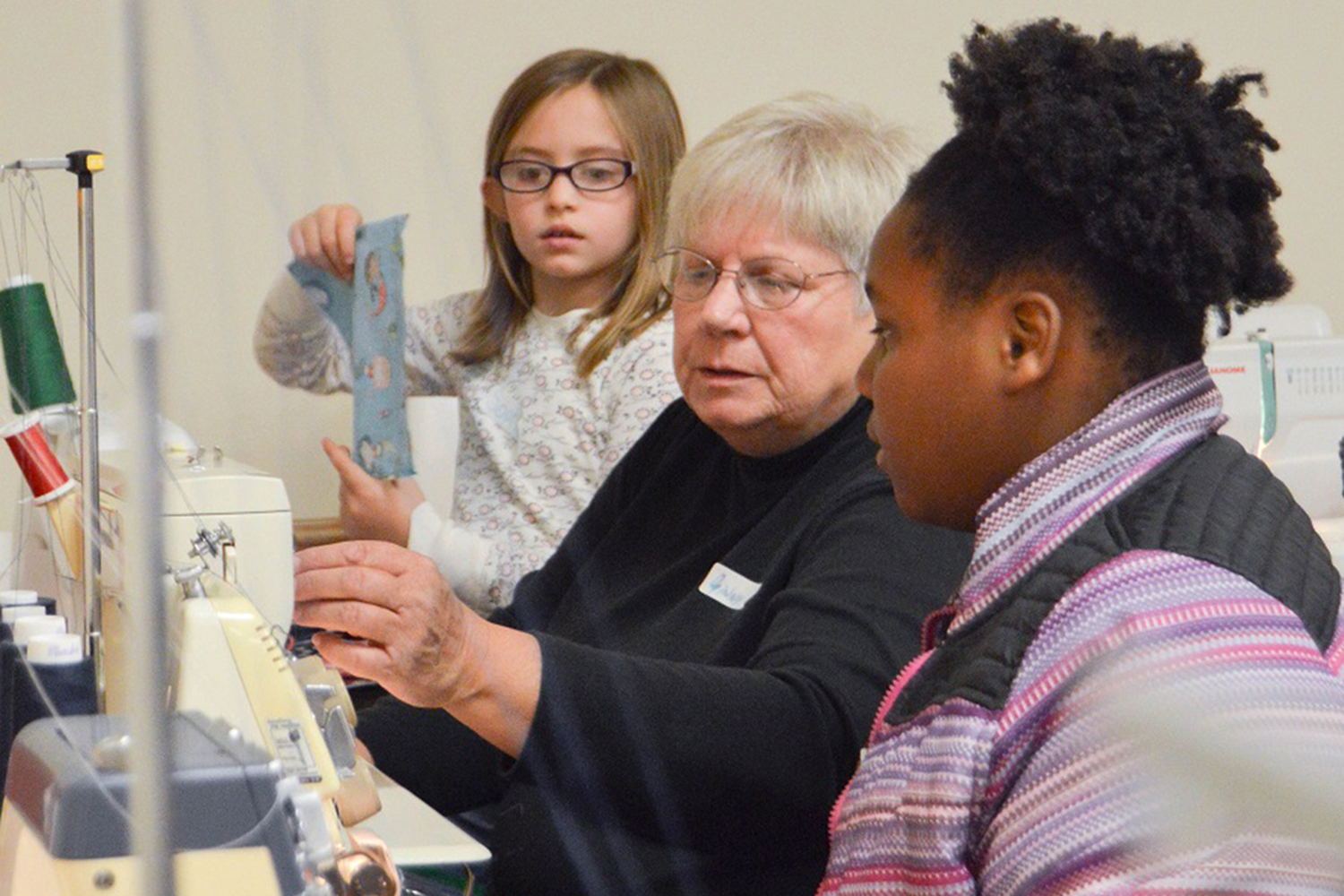 Ginny Whitman, center, helps 4-H'ers sew a bag. Photo by Melissa Kuhl
Sadie's Dream for a Cure delivered the pre-cut bags and pillowcases, which the 4-H youth then completed, using their sewing skills to add handles and pockets and stitch the bags together.
Thiele found the process to be a great fit for the kids.
"The bag assembly allowed for 4-H members to work at their skill level," Thiele said. "Many youth were already familiar with the process since they have experience with the 4-H sewing curriculum."
In addition to helping other youth through this project, 4-H members also honed their own skills. Thiele observed that throughout the day, members improved their process by finding easier and more efficient methods to sew the bags and pillowcases. They discovered that even mistakes can lead to learning new methods. Plus, the youth gained communication skills by working together, piece by piece.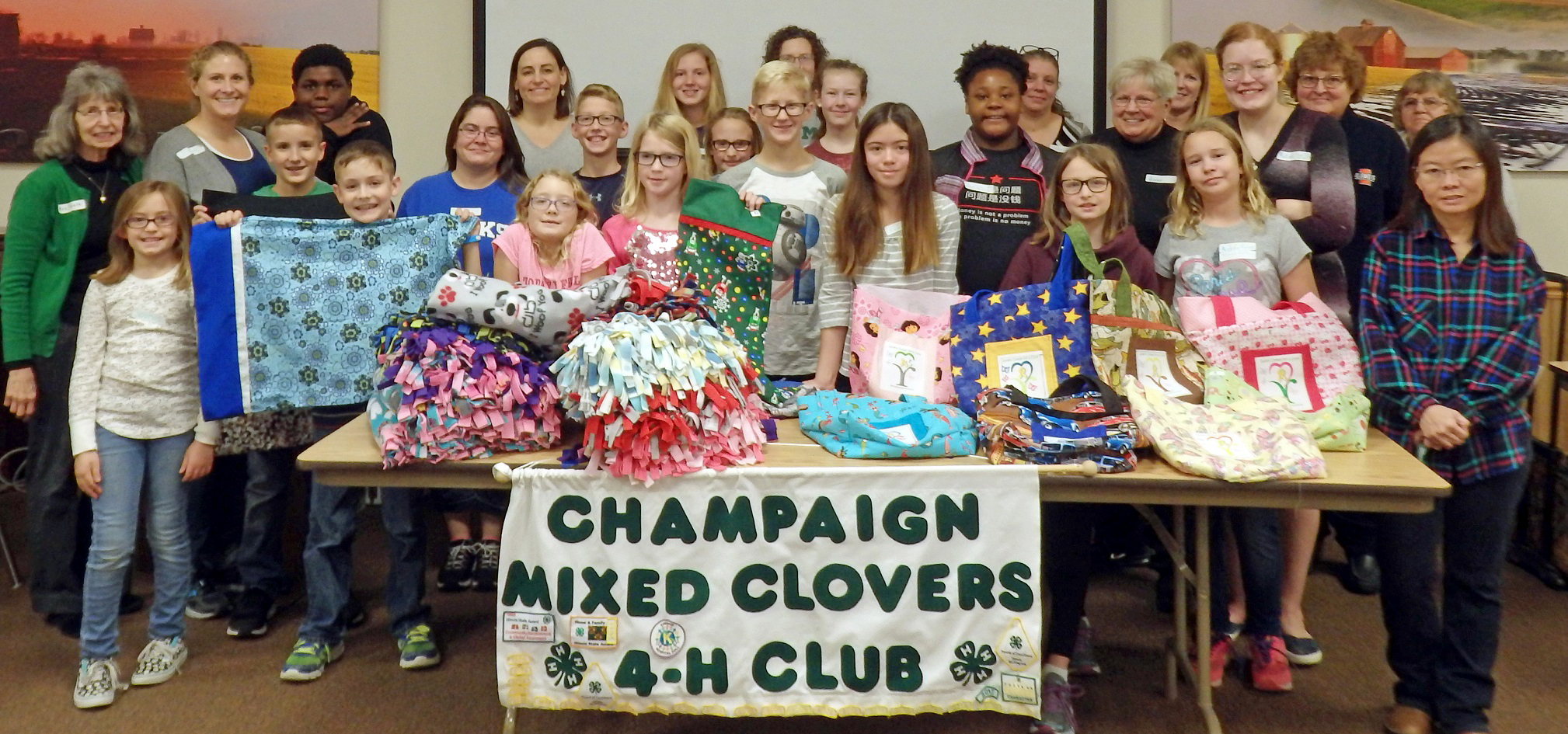 Members of Champaign Mixed Clovers 4-H Club pose for a picture at the recent sew-a-thon. Provided photo
"Whether a member pinned pieces to be sewn, turned handles or sewed a pocket or bag body, all gained skills and confidence by actually making something. It was great to see the excitement for the 4-H members working together to make another child's life more enjoyable," said Thiele. 
Of course, hanging out friends, working together and gaining new skills and confidence is only part of what makes the day so rewarding. Even greater is the feeling of hope the youth get in return for helping others.
"If I'm ever walking around and see the bags," said Yallaly, "I'll be like, 'Wow, I helped make that.' I know I helped that other kid. And that makes me happy."
TOP PHOTO: Members of Champaign County Mixed 4-H Club sew bags and pillowcases at the recent sew-a-thon. Photo by Melissa Kuhl