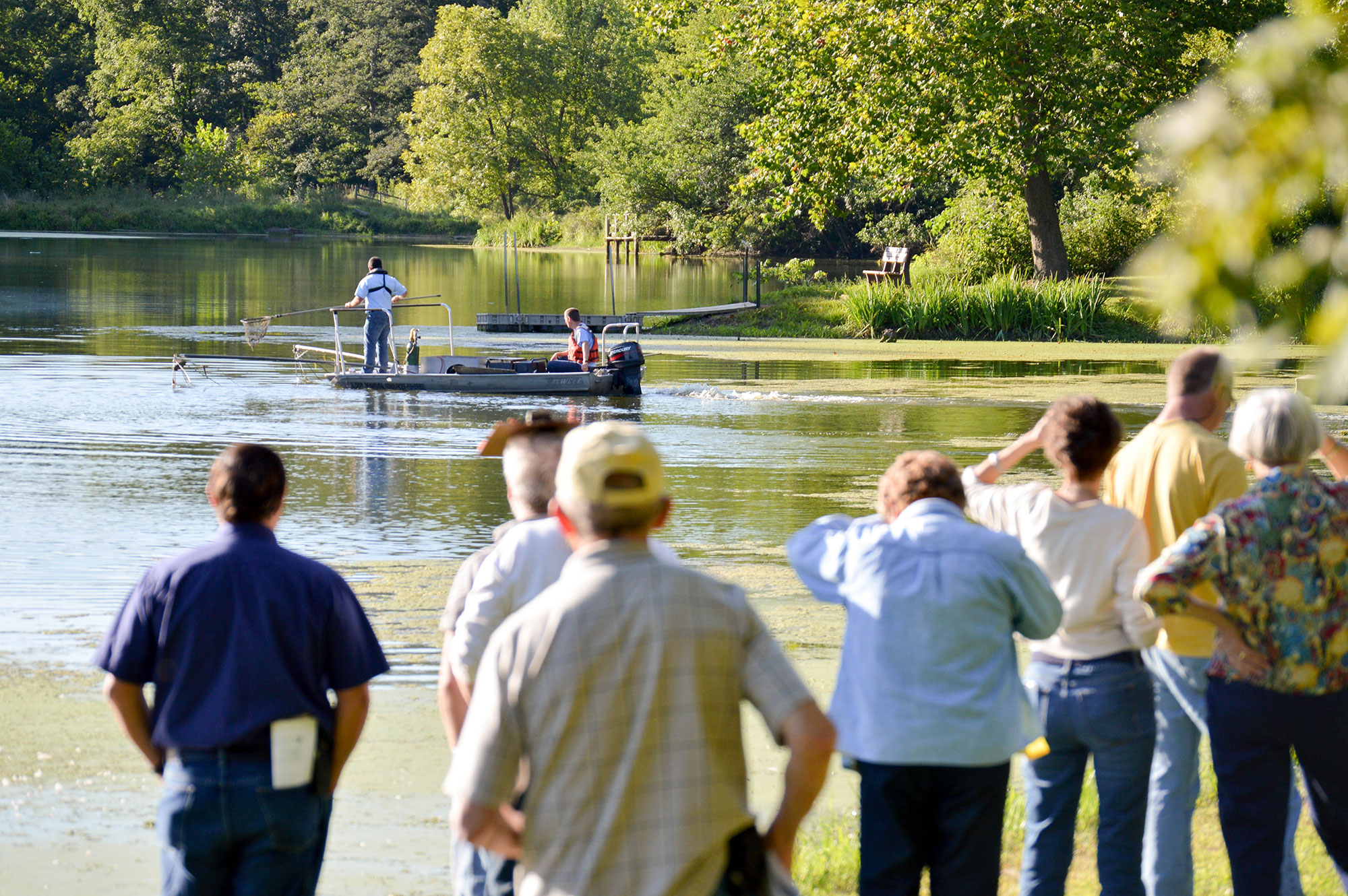 Aquatic management of ponds and lakes takes careful thought and planning. Pond owners may struggle with algae growth or fish population. University of Illinois Extension teamed up with Purdue University Extension to present a Pond Management Workshop this summer at Forest Glen Preserve outside Danville. The group invited speakers from the Illinois Department of Natural Resources (IDNR), Vermilion County Conservation District (VCCD), and Vermilion County Soil & Water Conservation District.
Mike Garthaus, IDNR Fisheries Biologist, explained the importance of understanding fish populations in a pond, and demonstrated fish shocking, which provides a picture of the fish community.  
Dave Shiley, U of I Extension Educator for Coles, Cumberland, Douglas, Moultrie, and Shelby counties, talked about pond ecology and aquatic plant management. He specifically focused on ways to stock a pond and ways to control the vegetation around the pond to help provide the best habitat for fish. Shiley provided insights about managing algae without damaging ponds.
Gary Wilford, VCCD Forest Glen Education Supervisor, said that ponds provide habitat for herons, waterfowl, swallows, shorebirds, bull frogs, green frogs, cricket frogs, turtles, water snakes, beavers, muskrats, otters, mink, and raccoons.
Attendees left with an understanding of how they can improve their own pond while also doing their part to advance conservation as a whole in their local environment.  From aquatic vegetation control to fish population management, participants departed with practical knowledge to help improve the conditions of their ponds one small step at a time.
For more information about pond management, contact U of I Extension educator Dave Shiley at 217-543-3755 or dshiley@illinois.edu or your local Extension office.