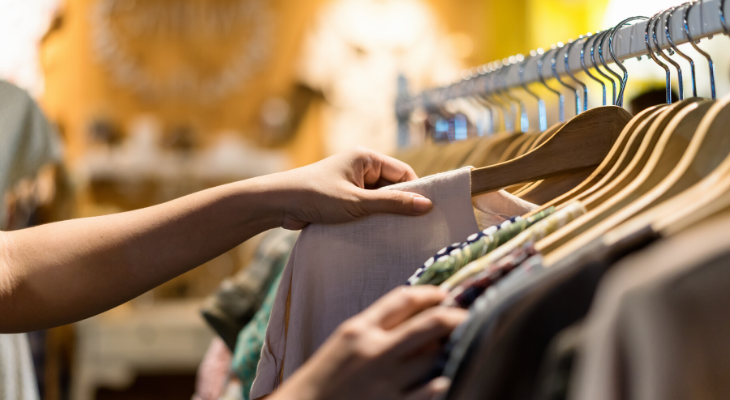 Shopping at thrift stores can be one of the most fun and rewarding ways to go shopping while on a budget.  If you are in need of a new wardrobe, but also want to save money, thrift shopping is just what you need.  Some popular places in the Champaign-Urbana area to go thrift shopping are the Goodwill, Salvation Army, and Salt & Light.  The best way to make thrifting fun is to bring a couple of friends along with you.  An extra perk of bringing friends is having a second opinion when determining what clothing looks best.
There is a certain excitement related to thrift shopping because you never know what you might find.  Each time you go to the thrift store there will be something new on the shelves to look for.  This is why it is also important to keep an open mind when you go thrift shopping.  If you do not see anything you like one day, there will be something new the next week. 
Strategizing where you go thrift shopping is a good way to increase your chances of finding good brands and apparel.  Shopping in high-end neighborhoods increases the likelihood that more high-end brands and newer clothes will be dropped off in those areas.  Location can also matter when determining what kind of local team apparel will be available.  If you are looking to find U of I apparel, the best place to shop would be in the Champaign area.  You may even be surprised at some of the rare items found in some of these thrift stores. 
When you go thrifting, you also do not have to worry about your clothes changing or altering shape after wearing and washing them.  Often when you buy clothes brand new, the first time you wash them they can fade or shrink.  Clothes from a thrift store have already gone through the process of wash and wear.  Knowing that what you see is what you get when buying from a thrift store will give you peace of mind when making your purchases. 
Thrifting can be the perfect entertainment for a rainy or gloomy day.  A thrifting adventure could be just the trick to brighten your mood.  It always feels good to buy new finds while saving money at the same time.  All you have to do is remember these tips when going on your next thrift shopping trip.
Written by Maddie Brown, Financial Wellness for College Students Peer Educator, University of Illinois Extension, Spring 2019. Reviewed by Kathy Sweedler, University of Illinois Extension.