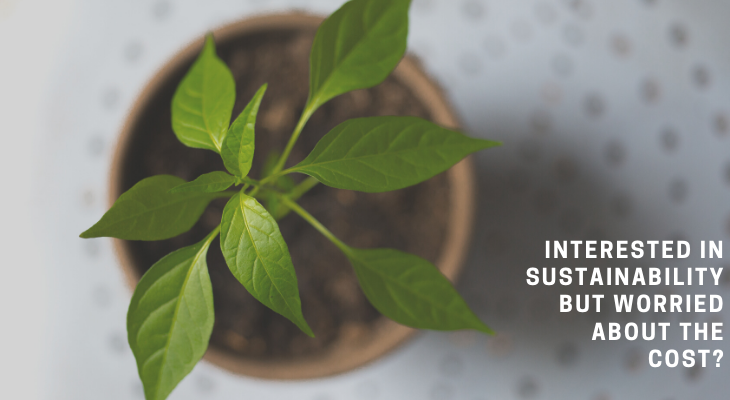 To some, living sustainably can mean living a more expensive lifestyle. Small increases in costs from eating organic foods, buying clothes made from sustainable and biodegradable fabrics, and paying extra for dairy alternatives can add up. Luckily, stores are making it easier to make more sustainable choices while saving money at the same time.
Here are a few ways to live a more sustainable lifestyle on a budget:
Bring your own cup to the coffee shop instead of using a disposable one. Starbucks, Peet's Coffee, and Caribou Coffee offer a 10 cent discount when you bring your own mug. Smaller coffee chains, like Espresso Royale, offer a 50 cent discount on drinks and coffee refill deals so the discount can vary between stores. Stores do change promotions so be sure to check and make sure they are still being offered.
Bring your own reusable bags to grocery stores and retailers. Target offers a 5 cent discount for every reusable bag a customer brings to the store and uses. In cities that charge bag taxes, like Chicago and Washington, D.C., stores charge a 5-7 cent tax per bag so bringing your own can save you money.
Buy from the bulk goods section instead of buying pre-packaged goods. Grocery stores like Whole Foods, local health stores, or co-ops usually will have bulk sections where customers can bring their own container and only pay for the quantity they buy. Depending on what you buy, you could save up to 50% on goods from the bulk section compared to pre-packaged products.
When buying new clothes, see if the store is offering discounts for donating clothes before purchasing. Companies like H&M and Madewell offer discounts for bringing used clothing back. H&M will give customers a 15% off voucher to use on a future purchase for every bag of items donated in-store

and Madewell will give a $20 credit on a new pair of jeans when an old pair is returned to a store.
Bring back empty containers to exchange them for new products. Skincare companies like Lush and Kiehl's have recycling programs where customers can exchange empty containers for new items. For every 5 empty product containers you bring in, Lush will give you a free fresh face mask. Kiehl's has a similar program where for every 10 empty full-sized containers you bring back, you can receive 1 free travel-sized product.
By making small changes, living a more sustainable lifestyle can help you save money and reduce waste. Try some of these tips on your next grocery or coffee run and see how it goes!
Written by Hilary Pham, Financial Wellness for College Students Peer Educator, University of Illinois Extension, Fall 2019. Reviewed by Kathy Sweedler, University of Illinois Extension.