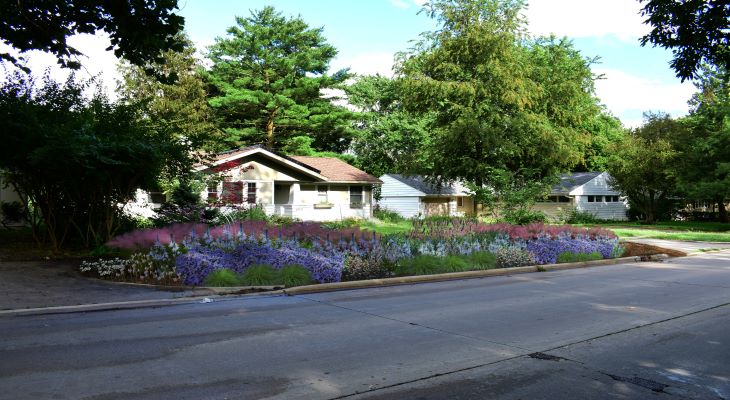 During the summer of 2019, the University of Illinois Extension Community and Economic Development team hosted two undergraduate Extension interns. Gabe Harper-Hagen and Rhea Bridgeland were funded through the Extension Internship Experience that pairs talented undergraduates with Extension professionals to work on an applied project over a 10-week period. Gabe and Rhea worked with CED Extension Specialist Lisa Merrifield and partnered with ANR Specialist Eliana Brown. City of Urbana Sustainability & Resilience Officer Scott Tess served as an advisor and a resource for pilot sites. The students explored innovative solutions to common stormwater problems. We specifically focused on rain gardens in residential right of ways. Rain gardens are plantings designed to absorb rain water before it enters storm drains. The right of way (ROW) is that area between the sidewalk and the street. Rain gardens in the ROW can reduce the volume and improve the quality of water flowing off homes and sidewalks during storm events.
There were three main outcomes from Gabe and Rhea's work on the project:
We gathered lots of data – the students identified and cataloged:

56 communities in Illinois with stormwater master plans;
26 communities in Illinois that use stormwater utility fees to fund and incentivize stormwater maintenance and improvements; and
Many research publications and case studies of communities outside of Illinois with rain garden ROW programs.

We surveyed 104 homeowners about their perspectives on rain gardens in the ROW.
We developed designs for rain garden ROW programs for specific sites in Urbana, Illinois.
As a result of the data collected and preliminary analysis, the City of Urbana has taken action. One of the plan designs has been shared with the Urbana Sustainability Advisory Commission, the city's economic development coordinator, and will be shared with the developer. The plan, or one based on it, may be built as part of a new development in the community.
Gabe said, "When I accepted the Intern position, I did not realize how much new material I would learn. This internship has been an amazing experience that I have gained valuable and professional skills which I can apply in my future career path. My time with Extension has opened new doors for me and I am considering working with green infrastructure design for stormwater management in urban places for my career."
Rhea summed up her summer by saying, "My experience as an intern for the University of Illinois Extension office has been influential on my plans for a future career and I was able to learn about a subject that is very pertinent to my major and personal interests. In addition, I was able to attend conferences and meet professionals in various careers that I would otherwise be unable to do, which allowed me to expand my interests and personal connections."
To finish the projects, the Extension Specialists will review all of the materials Gabe and Rhea collected. Look for more about the findings here. In the coming months we will be populating a CED Sustainable Communities website with case studies, best practices, and tips for communities interested in stormwater and other nature-based solutions.