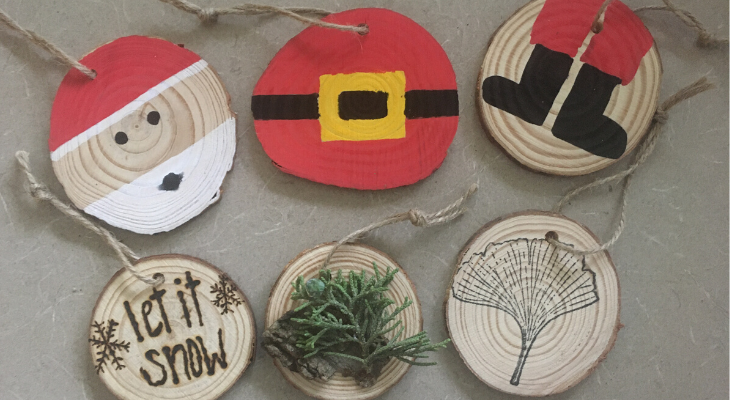 Perhaps my favorite thing to do during the holidays is to make my own ornaments. Glittery baubles, shiny tinsel, twinkling lights, and baroque glass ornaments just are not my style when decorating for the holidays. I am inspired by nature and entrenched in a family tradition of making art.
In addition to ornaments, we make handmade wreaths, holiday pots, garland, and always have some crafty activity for the family to do together. Last year we made succulent planters, but this year we are going to make more of our own ornaments. It is my role in the family to come up with the activity and is it no surprise that it always has something to do with plants.
Tree cookies are essential in making your own ornaments. They are the ideal natural base and can be ordered off of the internet, complete with drilled hole and jute. They can be colored, painted, glued, stamped, and burned to help create the holiday look. The sky is the limit with what can be drawn or painted on a tree cookie — ours showed off some of Santa's iconic features. Gluing on natural elements is my favorite because you do not need a lot of artistic talent, and it is the style most appealing to me. Wood-burning pens create a trendy look. Write the year or inspirational words to personalize your holiday tree.
Oranges, sliced into discs and dried, are a favorite in my family. Sew on a cinnamon stick and colorful beads, then use fishing line to hang the fruit on your tree. Combined with tree lights, these natural ornaments provide a festive salmon glow. We remake these each year, because after a year of storage they lose their vibrance.
If you are lucky enough to have some on your property, gather pine cones, fix a bow and hang them from the branches of the tree. I saw a "do it yourself" promotion recently where you can dye pine cones red with food coloring. Although skeptical (because pine cones close when you put them in water), I tried it. The food coloring did nothing to the brown exterior. Pine cones do take spray paint and glitter paint really well, though, if you need that extra pizzazz. Sugar pine cones are the rage this year in the garden centers because they are so long and big.
Create your own nature scene with air plants, greenery, berries or twigs by using a clear ornament. They come in different sizes and shapes and can be filled or 'landscaped.'
Plan to personalize your holiday with some hand made ornaments inspired by nature!