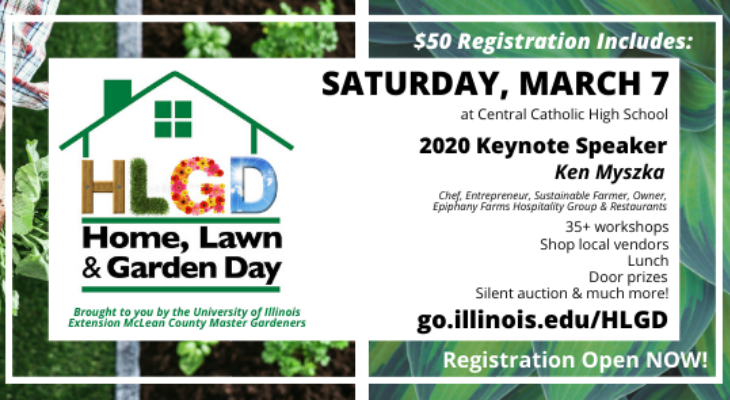 University of Illinois Extension McLean County Master Gardeners would like to invite you to their 18th annual Home, Lawn and Garden Day on Saturday, March 7 at Central Catholic High School, Bloomington. Home, Lawn and Garden Day is a day dedicated to garden fun! It is an ideal place to gain inspiration for future garden projects, fall in love with a must-have plant or learn the basics of everyday gardening. McLean County Master Gardeners host their annual Home, Lawn and Garden Day just in time to beat the winter blahs. Online registration is open now with space limited. Please register at the University of Illinois Extension website at go.illinois.edu/HLGD or stop by the McLean County Extension Office (1615 Commerce Parkway, Bloomington).
The fee for this day-long program is $50 and includes, the welcome and keynote sessions, choice of three additional break-out sessions, morning refreshments, and lunch. Hands-on workshops may have additional costs to cover materials that may be used. With over 35 break-out sessions to choose from, there is sure to be something for every kind of gardener. A few of the 2020 workshop topics include succulents wreaths, houseplants, shade plants, vegetable & herb gardening, composting, and landscaping with perennials but workshop space is limited so remember to register early!
Home, Lawn and Garden Day is an event packed full of gardening speakers and workshops including keynote speaker, Ken Myszka. Ken is a professionally trained chef, entrepreneur, sustainable farmer, and restaurant owner who hails from Downs, IL. [Keynote Background: Ken trained at the Culinary Institute of New York and has a B.A. from the University of Las Vegas. While in Las Vegas, he worked in the elite kitchens of renowned hotels including Restaurant Guy Savoy and Bradley Ogden at Caesars Palace, and with Thomas Keller at Bouchon. Ken has also trained with many other notable chefs and has worked in recognized restaurants across the U.S.] Ken returned to the Bloomington area to start Epiphany Farms Hospitality Group, with a working sustainable farm supporting six locations and a fifth restaurant on its way. Ken is committed to supporting, growing, and showcasing a thriving local food culture in an effort to re-envision the current culinary landscape.
During his presentation, Ken will be translating Epiphany Farms' innovative closed-loop system to the small scale home garden. Learn about practices for the small garden that encourage sustainability and regeneration without extra effort. Topics will include composting, companion planting, natural predators, integrated pest management, permaculture and regenerative agriculture principles, and biodiversity.
The day will open with a presentation for all by Kira Santiago, owner of Kira's Flowers. During her presentation titled "The Art of Sustainable Flower Design and the Hand-Tied Bouquet" attendees will learn sustainable floral growing and design techniques, and the natural ecosystem of her farm which includes flowers, vegetables, honeybees, and chickens. Kira has mastered the art of the hand-tied bouquet and will end her presentation with a bouquet-making demonstration using flowers from her farm.
During the mid-day session, Master Gardeners from the WJBC radio question and answer segment will be answering questions submitted by the attendees. Researched-based solutions will be presented, combined with fun and practical advice!
There will be plenty of time to visit and shop with the many exhibitors. It is an excellent opportunity to meet and talk with local garden center representatives about new products or to purchase a garden treasure. There will also be a silent auction to support the McLean County Master Gardeners community projects. For questions about the program, please contact us and reserve your spot today!
If you need reasonable accommodations, please contact: Brittnay Haag, Extension Horticulture Educator-Livingston, McLean and Woodford Counties at (309) 663-8306, or email bhaag@illinous.edu.