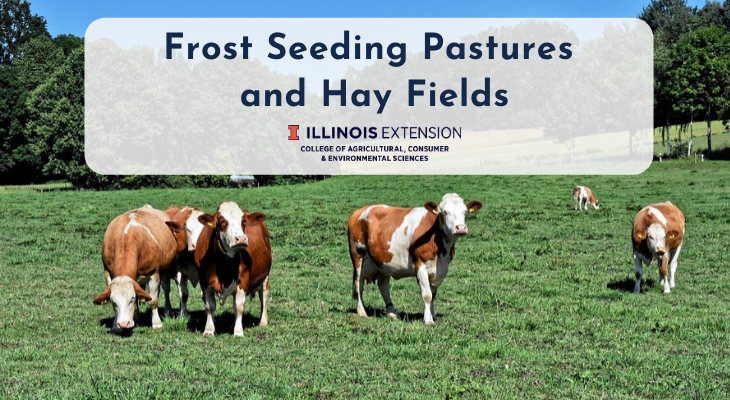 Our recent cycles of warm weather and snow have been somewhat of a nuisance; however, for those of you with a thin stand of vegetation in your pasture or hay field, this weather may be a great aid in frost seeding these areas.
Introduction to Frost Seeding
As the name suggests, frost seeding is the method of spreading seed into existing pastures in late winter to early spring while the ground is still frozen; typically, late February into early March. The freezing and thawing cycles help to incorporate the seed into the soil. Frost seeding should not be done when the ground is covered with snow as quickly melting snow causes the seed to wash away.
Frost seeding is thought to be the simplest and least expensive method of seeding; however, it can also be inconsistent with a success rate of only about 60%. Overgrazed pastures or pastures with thin stand or bare spots tend to have the highest germination success due to the seed to soil contact and lack of competition from surrounding plants. In addition, proper soil pH and fertility are necessary prerequisites to get started.  Overseeding or frost seeding cannot fix these issues; therefore, it is essential to soil sample and fix any issues prior to seeding.
Seed Selection
When selecting what plant species to seed, the effectiveness of frost seeding is dependent on the size and hardiness of the seed. Often frost seeding is done to introduce or increase the stand of a forage legume species into an established grass stand; legumes typically have a higher success rate for establishment. With a high seedling vigor and tolerance to pH, fertility, drainage, and drought; Red Clover is the most commonly used legume for frost seeding. Other legume options include Birdsfoot Trefoil, White Clover, and Ladino Clover. Birdsfoot Trefoil is slower to establish than Red Clover; however, overtime trefoil stands improve. Red Clover and Birdsfoot Trefoil make a good mix for seeding as Red clover often only produces for 2 years; once the Red Clover stand declines the Birdsfoot Trefoil is established enough to be the dominant legume. Although White Clover and Ladino Clover are known to last a bit longer than Red Clover, the two species are often less tolerant to low fertility, drought, and overgrazing.
Seeding Rates
Many believe that seeding into an existing stand allows seeding rates to be cut; however, the most successful seeding rates for frost seeding are equal to that used for a prepared seed bed. The increase in seed cost with a proper seeding rate is offset by lower costs for labor, tillage, and seeding equipment. Below are the suggested seeding rates in pounds per acre. The lower rate is what is commonly used; however, for a better stand, the higher number is recommended. Broadcast spreaders mounted on an ATV or tractor are commonly used for frost seeding. When using a spreader, it is important to determine the effective seeding width of each type of seed or mixture and the spreading pattern of the spreader. Legume seed is often heavier than grass seed which allows for it to spread further than grass seed. With this knowledge, it is recommended to seed grasses separate from legumes.
Suggested Seeding Rates for Frost Seeding into an Existing Grass or Legume Sod

Species

Seeded Alone

As Part of Seed Mixture

Plants per Square Foot

 

Rate (lb/acre)

Expected Established Plants*

Red Clover
4-8
3-4
2-5
Birdsfoot Trefoil
4-6
2-3
6-9 (in 2nd year)
Alfalfa
5-8
3-4
4-6
Ladino Clover 
2-3
1-2
1-2
Alsike Clover
2-4
1-2
2-3
Perennial/Italian Ryegrass
8-15
2-3
10-12
Orchardgrass
3-4
1-2
4
Tall Fescue
6-8
3-4
3-4
Smooth Bromegrass
Not recommended for frost seeding
Reed Canarygrass
Not recommended for frost seeding
Timothy
Not recommended for frost seeding
  *Expected plants based on "alone" seeding rates.
Table provided by University of Wisconsin Extension
Maintenance
Once you have seeded the pasture, the work isn't completely over. It is critical to get the newly seeded plants off to a good start. During the first two to three months of the growing season, it is important to control any competition from grass and weeds. This can be done with moderate grazing (avoid close or continuous grazing) or with mowing.
Frost seeding can be an easy and inexpensive way of rejuvenating a pasture, but it is important to do it properly. Remember to start with a soil sample to ensure the proper pH and fertility levels. It is also important to use high-quality seed and the correct planting rate to guarantee a good stand. There are many resources available for those new to frost seeding. Contact your local Extension office for any assistance.
Good Growing Tip of the Week: If you have old seed lying around, it is important to do a germination test and adjust your planting rate based off the germination rate. For any leftover, new seed, it is important to store seed in a cool, dry environment (below 50ºF and less than 50% humidity) to maintain quality.
Want to get notified when new Good Growing posts are available? SIGN UP HERE!