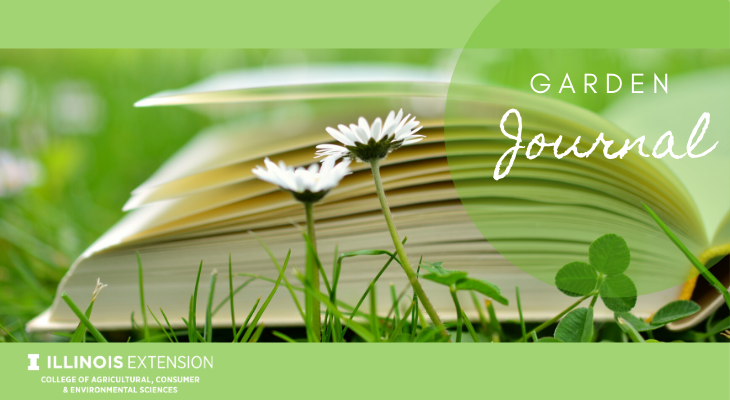 What was that really excellent pepper variety we grew last year? 
What type of tomato was resistant to disease? 
Those are the types of questions we think we will always remember the answer to, but now we are coming into the 2020 garden season; some of those details have slipped our mind. This season you might want to consider a garden journal to keep that type of information where you can use it in the future. 
Choose a type of journal that is easy for you to use. Choices can include a spiral notebook, 3 ring-binder, digital journal, or even an app on a smartphone. The easier it is for you to use the more likely you are to consistently add information to the journal. 
Develop a routine to ensure you don't forget to add valuable information.  Maybe you like to check your garden first thing in the morning.
Then sit down with a cup of coffee and add your observations into your journal.  For those who check their gardens in the evening, the best time might be before your bedtime routine.  Garden journaling doesn't need to be done every day, so choose a schedule that works for you and stick to it. 
Looking at a blank white page can be intimidating if you don't know where to start. A good place to begin is with the date and weather, including precipitation totals, temperature (highs and lows), etc. Make notes of planting dates, bloom time, and harvest dates as these can give you valuable information for future garden plans.  Recording the scientific names of your plants helps you quickly find information about your specific plant. 
Illustrate your garden journal with sketches of where plants are located so you can plan for crop rotation.
Add drawings or pictures of the especially pretty flower or that perfect tomato. One beautiful thing about keeping a digital journal is the ability to add your photos right into the journal. Pressed flowers and leaves, seed packets, pictures from seed catalogs, and plant tags can be taped directly onto the page for future reference. 
Keeping a garden journal helps you to make observations today, reminds you of how your garden has progressed and plans for the future of your garden. Have fun with your journal, and make it as unique as your garden.