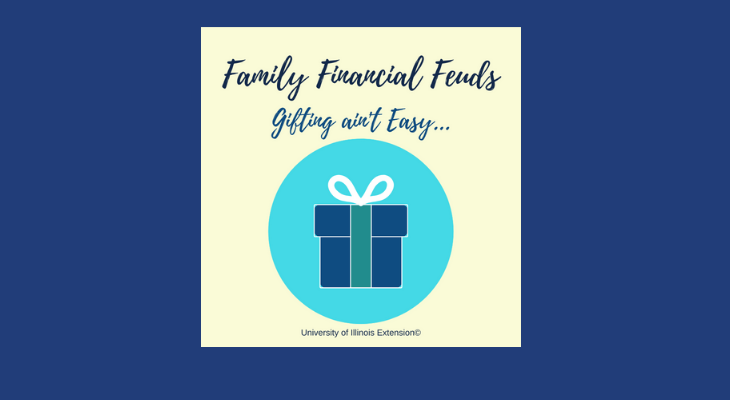 While I give gifts all year long, this time of year I buy a lot of gifts!  The fact that my sons' birthdays are in November and January just add to the gift buying.
It only makes sense with all this gift-buying on our minds that our latest Family Financial Feuds podcast is about gift giving, Gifting Ain't Easy. In this episode, Sasha Grabenstetter and I investigate the interesting world of gifting. From gift cards, gift closets and regifting - the research community has a lot to say about why and how we give gifts to other people.
One reason that people give gifts is to strengthen relationships between the gift-giver and the receiver. I know that when I moved to Illinois I wanted to maintain a connection with my nieces and nephews in California and Colorado. To me, giving gifts was one way to do that.
Researchers Cindy Chan and Cassie Mogilner1 investigated whether material or experiential gifts were better at strengthening relationships. Essentially, "material gifts are objects to be kept in the recipient's possession (e.g., jewelry or electronic gadgets) and experiential gifts are an event that the recipient lives through (e.g., concert tickets or a photography lesson." Their research found that, while people are more inclined to give material gifts, experiential gifts were better at strengthening relationships.
To learn more about their research and others', please listen to our podcast. I know the research changed my gift-giving behavior this year; I'm curious what you think?
Family Financial Feuds is a podcast created by the Consumer Economics Team at the University of Illinois Extension. Each month we discuss a money topic that could create a financial feud in your household. You can find our podcast on SoundCloud and  iTunes and Google Play.
1 Chan, C. and Mogilner, C., (2017) "Experiential Gifts Foster Stronger Social Relationships Than Material Gifts," Journal of Consumer Research, Inc. vol. 43, p. 913.