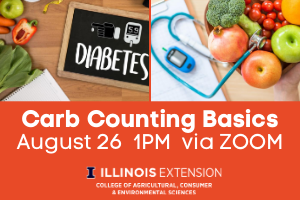 Diabetes and prediabetes affect over 100 million Americans. This disease is a major cause of blindness, kidney failure, heart attacks, stroke, and lower limb amputation and is the 7th leading cause of death for men and women in the united states. Fortunately, there are steps you can take to manage your diabetes. Making wise food choices can greatly influence the health outcomes of this disease, however making good food choices is not always easy. Carbohydrate counting is a common method doctors and dietitians teach to help those with diabetes take charge of their diabetes and health.
Carbohydrate Counting Basics is a one hour webinar designed for anyone interested in meal planning for diabetes. This program will discuss the different types of diabetes, carbohydrate counting methods, sources of carbohydrates, and meal planning tips for carbohydrate control.
Carbohydrate Counting Basics aims to complement the recommendations of your health care provider and to help you or your loved one make wise food choices to help manage diabetes.
Instructor Lindsey Kabat, dietetic intern will hold the live webinar at 1 to 2 p.m. Aug. 26. Space is limited, so register now.