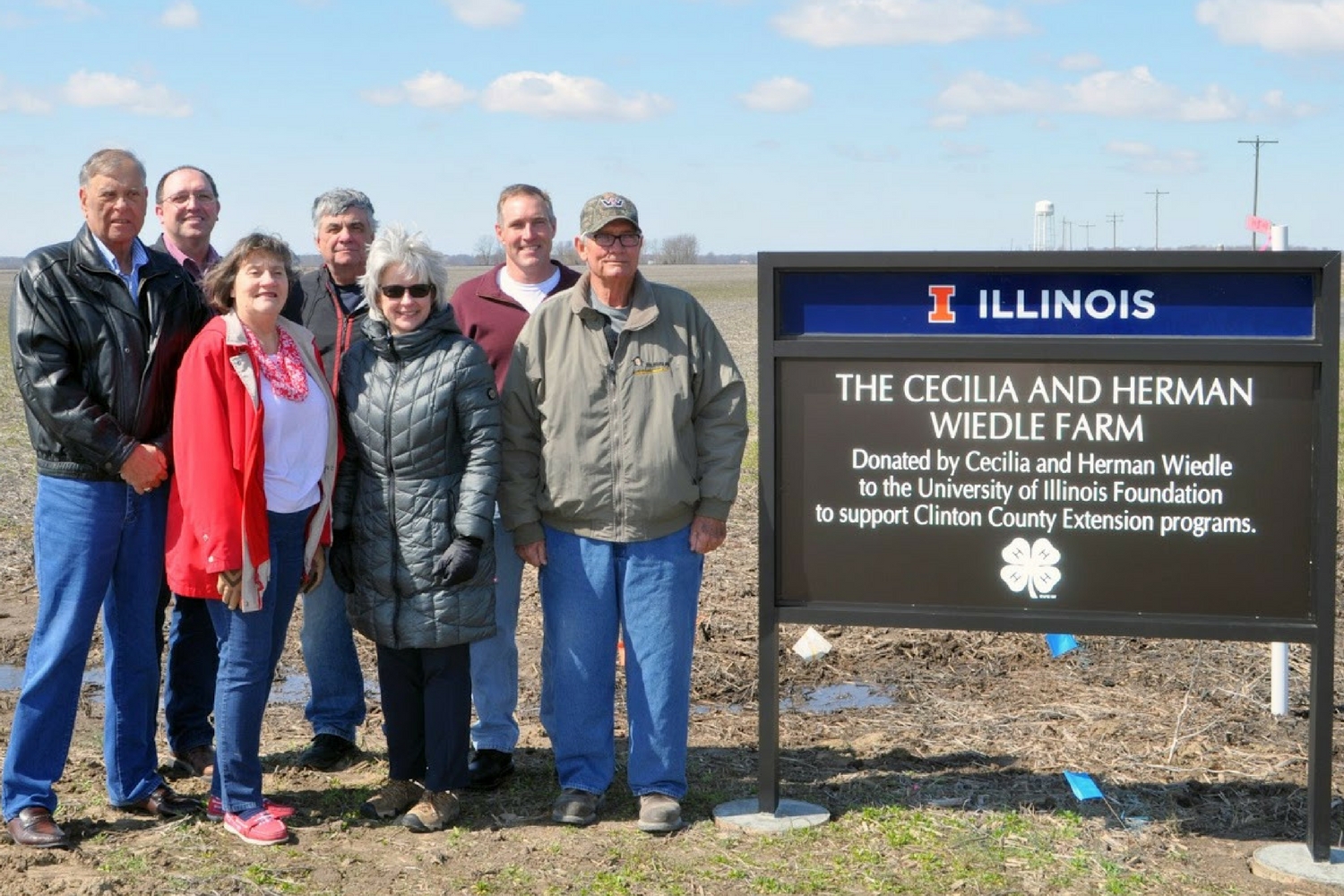 URBANA, Ill. – A new sign placed at a Clinton County farm celebrates the generosity of the late Cecilia and Herman Wiedle. The Cecilia Wiedle Trust provided 70 acres of farm ground for the benefit of the Clinton County Extension Foundation. The University of Illinois Foundation is managing the farm and will continue the relationship with current tenants Tim and Larry Hanke.
Herman Wiedle passed away in 2010 and Cecilia passed away in 2017 at the age of 94. Cecilia's family described her as a vibrant personality. She enjoyed travel, dancing, and sewing, often making her own clothes. She was an active member of the Clinton County Home and Community Education organization. Cecilia was also actively involved in farm work. Her niece Jan Rittenhouse says, "My aunt was right alongside my uncle in farming."
Through Cecilia's trust, the Wiedles left 70 acres of ground to Illinois Extension and over 150 acres of farm and woodland to the Illinois Farm Bureau.
"I really believe my aunt and uncle just wanted their land to be taken care of," Rittenhouse says. "There will be a legacy here and they will continue to take care of the ground. I think every farmer can relate to that. There's no new ground being made, and we need to be good stewards to what we have."
On March 21, family, friends, neighbors, and Clinton County Extension Foundation members gathered with University of Illinois representatives to celebrate the property. Kim Kidwell, dean of the University of Illinois College of Agricultural, Consumer and Environmental Sciences (ACES); Angie Barnard, executive director of the Illinois 4-H Foundation; Kimberly Meenen, assistant dean for advancement for the College of ACES; and Illinois Extension staff were present for the celebration.
"Over the years, the university has been the grateful beneficiary of donations of land from numerous families," Kidwell says. "Today, the University of Illinois owns over 10,000 acres of farmland, all donated by people who share our commitment to preservation, expanding research, providing educational opportunities, and strengthening Extension."
The Clinton County Illinois Extension Foundation, which is affiliated with the University of Illinois Foundation, strives to support youth scholarships to leadership development camps and college scholarships. Jeannie Brendel, president of Clinton County Extension Foundation, says the Wiedle's gift will help provide scholarships for local youth to attend 4-H programs. "[The Wiedles] always worked very closely with 4-H and Extension. They believed in being stewards of the planet, so to speak, and they wanted to continue their legacy through the 4-H program," Brendel says.
"It's like [Kidwell] said," Rittenhouse says. "This is a gift that will keep on giving, and will be able to grow and help others."
For more information about supporting the University of Illinois through gifts of farmland, contact the College of ACES Office of Advancement at 217-333-9355 or acesadvancement@illinois.edu.
Source: Jill Gebke, 618-327-8881 jgebke@illinois.edu
Writer: Deborah Seiler, 217-300-5571 dlseiler@illinois.edu