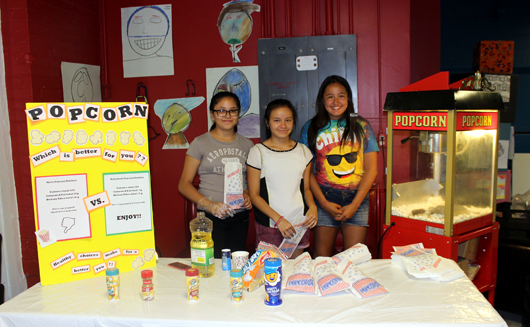 When Brad Cirks, University of Illinois Extension SNAP-Education Educator, approached teens at the Boys and Girls Club in Moline, IL, about starting a program focused on healthy lifestyles, he was expecting a handful to participate. He was impressed when 30 teens enthusiastically got on board.

According to Cirks, "this spring we have been talking about healthy eating and activity, and trying to increase health awareness in the community and for the kids."

"The whole program has been very fun," shared Celia, one of the teens. "We have learned a lot about food and nutrition, and tried lots of different recipes. My favorite was the pizza quesadillas!"

As a culmination of the program, the teens were responsible for planning a way to impact their community this summer and decided on a Healthy Carnival. With assistance from Cirks, the teens planned out the entire event, including activity stations, healthy snacks, and designing the signage to describe each part of the Carnival. Favorite activities included a water balloon toss, basketball shoot-out, fruit and vegetable tasting, and healthier popcorn station. Area children were invited to participate with the teens and their special guests.

On hand to celebrate the teens' success were Representative Cheri Bustos (D-17), Boys & Girls Club Executive Director Jenny Galach, Teen Center Director Rachel Price, and Board Member Robert Ontiveros and his granddaughter, Maria.

Representative Bustos joined right in by practicing her football throw, playing a little 4-on-4 basketball, and also teaching kids how to spin a basketball. "I'm seeing kids here that are active right now and want to be active. This foundation for eating healthy and being active now will stay with them for their entire lives."
SNAP-Education in Illinois focuses on helping families to choose healthy eating habits and physical activities consistent with the USDA Dietary Guidelines for Americans. Jennifer McCaffrey, Assistant Dean for Family and Consumer Sciences with Extension and SNAP-Education Program Leader, stated, "One of Brad's focuses this spring was to work with the Boys and Girls Club to start the teen ambassador program. We are lucky to have community partners in the Moline and Rock Island area, such as the Boys and Girls Club, which support healthy lifestyles for Illinois youth."

Contact information: Beth Peralta, Media Communications Specialist, Illinois Nutrition Education Programs: SNAP-Education and EFNEP, 217-244-7405, cavaller@illinois.edu