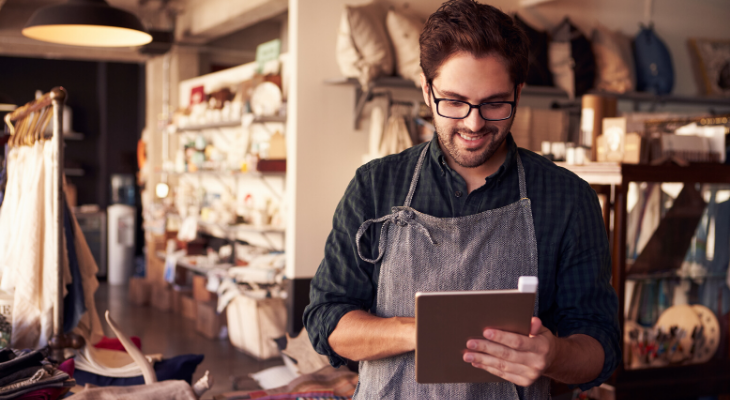 The shopping experience has diminished as customers adhere to in-store social distancing guidelines, curbside pickup, scheduled delivery, and online ordering. While certain business activities are restricted, connecting with the customer is not.
This connection, however, may look different as we transition into the new normal. Main Street America reports that "e-commerce was growing at nearly 15 percent annually prior to the pandemic, which has only accelerated during stay-at-home orders. Even with reopening, foot traffic will lag."
At reopening, businesses will need to clearly communicate the in-store procedures designed to keep customers safe. More than ever, it is important that businesses provide accurate and up-to-date information about their business operation, even if those operations are changing quickly.
Businesses can use the free Google My Business platform to mark their business as temporarily closed, update their business description to explain how interaction with customers has changed, post hours of operation, or simply let customers know they will be back soon. Businesses can generate posts which reflect the personality of their business, tell customers what's new, provide a COVID-19 update, add a photo, promote events and special offers, and upload a video. For more information on the many ways Google My Business can help businesses engage with customers, see this YouTube video #GrowWithGoogle.
Answering machines, websites and social media platforms should all provide current information. Business owners can use technology to communicate directly with customers – by phone, e-mail or online post. Let customers know the business is still there, that you care, and you can't wait to see customers again.
As businesses reopen, the new normal won't be better or worse; it will simply be different. Many customers are counting the days until their favorite business reopens. Others may be reluctant to return to in-store shopping, more comfortable continuing to shop online or pick up curbside. Businesses will need to respond accordingly and with empathy. Reassuring customers that businesses are ready to serve them, regardless of the way they want to shop, is vital.
Employee roles may shift in the new normal. Store specialists will continue to support those shopping in person, while customer pickup and delivery positions may also continue. New roles may emerge as online shopping platforms become the norm, necessitating the need for a website manager, social media manager, shipping department, and a customer service representative.
Customer shopping preferences may change. Customers may be working from home, have diminished financial capacity or needs that are simply different as a result of COVID-19 and the stay-at-home order. Businesses may experience supply chain disruptions and inconsistent delivery of goods. These factors will challenge businesses to identify what their customers want, seek out new locally sourced items, expand their product mix, and add or increase their service offerings.   
Our small business owners and managers are resilient, creative, problem solvers. They will find a way to tackle these challenges, maximizing customer satisfaction while remaining laser-focused on delivering quality and excellence to their customers. Resilience is our new normal!
Source:
Susan Odum is a University of Illinois Extension specialist in Community and Economic Development, specializing in community development and planning. She graduated summa cum laude from Southern Illinois University, Carbondale with a master of business administration. She received nationally-recognized certification as a professional community and economic developer from the Community Development Council. Her office is in Marion.