Summertime equals vacation time, and we want to enjoy it! But enjoying your vacation does not mean you have to forget about your health. Whether traveling by car or eating for days at the beach's hotel restaurant, try these tips to keep your health on track.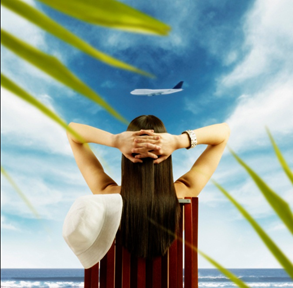 Tips for Travel (car trips and plane rides)
Check the map for nearby towns and plan to stop about every hour to stretch your legs for a few minutes. You will feel more focused and alert on your drive when doing this. Stopping at local libraries, restaurants, and other public places are great for using restrooms.
Same goes for planes. Get up about every hour to stretch your legs (only when your pilot gives the okay). Long-term sitting slows blood flow and may lead to blood clots, which can be dangerous.
Since most travelers cannot pack their refrigerator, bring shelf-stable snacks and drinks for each day of your trip. Water should be your first pick for a beverage. Snacks like apples, bananas, dried fruits, carrot sticks, snap peas, nuts, baked chips, whole-grain pretzels, and reduced-sugar snack bars travel well. Portion out foods and snacks for easy access and to help limit overeating.
If you prefer taking snacks and beverages offered on planes, choose water over sweetened beverages like lemonade or soda. Snacks like the bags of pretzels and nuts can be good choices too since they are already pre-portioned, but you may rack up the sodium quickly depending on how many you have.
If you have access to ice, fill up a cooler to bring refrigerated items on your trip, such as yogurt containers, cottage cheese cups, and cut-up fruits. Remember: after a few hours, the ice will start to melt, so plan to eat these foods up soon.
Scope out where you stop for meals. Knowing which restaurants, fast-food joints, or other food locations you plan to stop at will help you make healthier choices. Take a look online for menus beforehand and even pick out what you will order.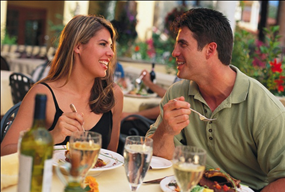 Tips for Your Vacation Spot (pool, restaurants, and hotels)
Bring and USE sunscreen! (Nothing – in this Educator's opinion – ruins a vacation quicker than a sunburn.)
Get in some fitness. Whether walking on the beach, swimming laps in the pool, or hitting the gym, take advantage of equipment and space available to you.
Just like your time traveling, bring shelf-stable snacks and drinks to store in your hotel room. Or buy food supplies from a local store. If your room has a refrigerator/freezer, stock it with foods and drinks. (You may get tired of dining out for all meals.)
If you are at a pool for a while, plan to bring your own shelf-stable snacks and drinks (including those that will not melt in the sun). If not, check the concession stand for healthier options, such as water, grilled burgers and chicken sandwiches, baked chips, and possible fruits and vegetables like salads or apples.
Tips for Traveling and Vacationing with Health Conditions
Traveling with a health concern, such as diabetes or heart disease, can be daunting. Continue to make healthy food and lifestyle choices during your trip just like at home, and read more below.
Reference: Texas A&M AgriLife Extension Service. Health Tips for Travelers On the Move: Effects of motion, air pressure, & time zone changes. 2008.
Today's post was written by Caitlin Huth. Caitlin Huth, MS, RD, is a registered dietitian and Nutrition & Wellness Educator serving DeWitt, Macon, and Piatt Counties. She teaches nutrition- and food-based lessons around heart health, food safety, diabetes, and others. In all classes, she encourages trying new foods, gaining confidence in healthy eating, and getting back into our kitchens.