Every Thanksgiving celebration seems to be complete with way too many leftovers, usually the turkey, pies, and dinner rolls. And really, how many leftover turkey sandwiches can you eat!? This holiday season, mix things up with some new recipes using your dinner leftovers and extra ingredients.
But first, stay food safe.
Any leftovers from your Thanksgiving meal need to be moved into cold storage (refrigerator or freezer) with 2 hours of when you serve it. This includes meat, mashed potatoes, cooked veggies, salads, cheese ball, and other perishable foods.  Do not leave perishable foods sitting out a room temperature past this time.
Leftovers in your refrigerator should be used within 3-4 days. Otherwise, throw them out or freeze them. Frozen leftovers can be used months later when you are not tired of them anymore!
Leftover Turkey
In the cold weather, throw leftover meat into soups, stews, casseroles, stir-fry, or chili.
Try the Leftover Turkey Cranberry Stew recipe at the end of this post.
Leftover Potatoes or Sweet Potatoes
Leftover Dinner Rolls
Layer leftover meat and slices of cheese between both halves of a roll. Wrap in foil and bake at 350°F for 20-30 minutes for a hot sandwich.
Make bread pudding or croutons to use up those day-old bread slices and rolls.
Leftover Pumpkin Puree
If you are not sick of it, make a pumpkin quick bread. These freeze well so you can eat it in several months.
Ever thought about pumpkin chili? Try this recipe from the Illinois Nutrition Education Programs website.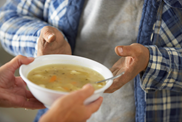 Web Corner
Need a hand making your turkey dinner? From UI Extension, read more about preparing your turkey and doing it safely with the Turkey for the Holidays website.
Recipe Corner
Leftover Turkey Cranberry Stew (Serves 6)
When you have lots of leftover Thanksgiving turkey meat and other holiday ingredients, try this hearty stew full of vegetables.
2 tsp canola oil
1 medium onion, diced
1 large carrot, diced
1 large celery stalk, diced
1 parsnip, peeled and diced
1 medium sweet potato, peeled and diced
1 bay leaf
1 tsp dried thyme
2 cups fat-free, reduced sodium turkey or chicken broth, divided
1 apple, peeled and diced
1 cup frozen (thawed) whole cranberries
3 cups diced cooked turkey
1/2 tsp salt
1 tsp black pepper
6 pieces of whole-grain rolls
1. In a large stock pot, heat oil over medium heat.
2. Add onion. Sauté 5 minutes or until soft and translucent.
3. Add carrot, celery, parsnip, and sweet potato. Sauté 3 minutes until vegetables are lightly brown.
4. Add bay leaf, thyme, and 1 cup of stock. Bring mixture to a boil.
5. Reduce heat and simmer 10 minutes or until vegetables are nearly tender.
6. Add apples, cranberries, turkey, salt, and pepper. Cook 5 minutes or until cranberries are softened. Add additional stock as needed. Continue cooking until turkey is heated through and vegetables are tender.
7. Serve with bread or rolls.
Nutritional analysis per serving: 310 calories, 11g fat, 530mg sodium, 28g carbohydrate, 5g fiber, 26g protein
Today's post was written by Caitlin Huth. Caitlin Huth, MS, RD, is a registered dietitian and Nutrition & Wellness Educator serving DeWitt, Macon, and Piatt Counties. She teaches nutrition- and food-based lessons around heart health, food safety, diabetes, and others. In all classes, she encourages trying new foods, gaining confidence in healthy eating, and getting back into our kitchens.