In a follow-up to the roasted veggies post, I started thinking about ways I make meals easy and quick, but still flavorful. What occurred to me were sauces I use in recipes.
Sauces add another level to otherwise plain recipes. Lately, sauces I use in cooking have been pesto, tomato salsa, salsa verde, and peanut sauce. Not only do these make for quick recipes, I am able to get a tasty, colorful meal out of it all.
If you make sauces yourself, you can control ingredients and nutritional value. If you buy sauces, try different brands to find what you like. Also be mindful of nutrition, and pick those with lower sodium and added sugars. (Most pestos and peanut sauces are high in fat and calories, so a little goes a long way.)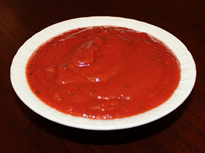 These are some menus I have made using sauces:
1. Pesto chicken and tomato on a sandwich bun (see recipe below) and fruit salad
2. Salsa fish with macaroni and cheese and steamed green beans
Spread a layer of salsa over any white fish and bake at 400°F until flakes easily.
3. Shredded pork with Parmesan salsa verde barley and roasted broccoli
Cook barley as directed. Stir in enough salsa verde to coat. Continue cooking, stirring frequently, until mixture thickens, about 3 minutes. Stir in desired amount of Parmesan cheese.
4. Peanut pasta with chicken and red peppers
Mix peanut butter with soy sauce, vinegar, honey, ground ginger and garlic, crushed red pepper, and chicken broth until smooth.  Toss with spaghetti or another pasta and cook until hot.  Serve with reheated leftover chicken and red bell peppers.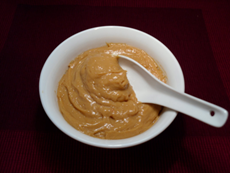 Baked Pesto Chicken (serves 4)
Do you not want to turn on your oven? Instead, cut chicken into strips and sauté in a skillet with the pesto until cooked.
1 pound boneless, skinless chicken breast (about 2 chicken breasts)
1/2 cup prepared pesto
1 large tomato, sliced
1/2 cup shredded reduced-fat mozzarella cheese
4 whole-grain sandwich buns
1. Preheat oven to 400°F. Grease an 8x8-inch baking dish.
2. Cut each chicken breast in half. Place in a bowl and toss with pesto. Spread chicken into baking dish and cover with foil.
3. Bake 20-25 minutes or until chicken reaches a minimum temperature of 165°F.
4. Remove foil. Top chicken evenly with tomato slices and cheese. Bake uncovered 3-5 minutes or until cheese is melted. Serve between sandwich buns.
Nutritional analysis per serving: 320 calories, 16g fat, 500mg sodium, 5g carbohydrate, 1g fiber, 32g protein
Recipe presented at: Kirby's Kitchen (Piatt Co), 2015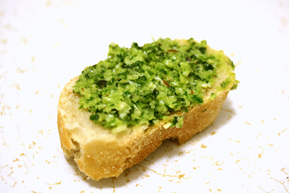 Today's post was written by Caitlin Huth. Caitlin Huth, MS, RD, is a registered dietitian and Nutrition & Wellness Educator serving DeWitt, Macon, and Piatt Counties. She teaches nutrition- and food-based lessons around heart health, food safety, diabetes, and others. In all classes, she encourages trying new foods, gaining confidence in healthy eating, and getting back into our kitchens.