Who's going to a potluck this summer and needs to bring a dish? Whether going out on the lake, sitting beachside, or having a house party in someone's backyard, try these tips for being a contributor to the food fun.
1. Bring the unexpected
Variety is the spice of life, in food as well. In the summer, slaw, potato salad, pasta salad, fruit pizza, green salads, and desserts are the norm.
Mix up what you bring this time with something new or do a new twist on a classic dish. Try the Greek Salad recipe at the end of this post. It goes over great with a crowd.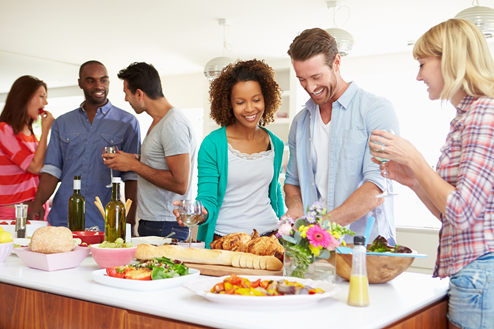 2. Be safe on the road
The standard of food safety is: keep hot foods hot, and keep cold foods cold.
If you are bringing a cold dish, pack the cold food in an insulated cooler with ice or ice packs.
If you are bringing a hot dish, move the hot food into an insulated container, like a slow cooker.
Once you arrive, ask your host where you can move your dish, whether into a refrigerator, oven, and plugging that slow cooker into an electrical outlet.
Or make it easier on yourself and bring a recipe that does not require any temperature control, such as cornbread, bread rolls, trail mix, etc.
3. Shut down the party
If your hot or cold recipe is going on the buffet table, throw out leftovers sitting for 2 hours or longer at room temperature.
If you want to keep leftovers, you need to hold foods on the buffet table at certain temperatures.
Surround containers of cold food with ice. Foods should be held cold at 40°F or less.
Move hot foods into chafing dishes or slow cookers. Food should be held hot at 135°F or higher. (Do not reheat foods in these vessels.)

Stir the dish frequently to distribute the cold or heat. Take temperatures every 2 hours.
4. Check your steps
Read more on food safety at http://www.foodsafety.gov/keep/basics/index.html.
- - -
Greek Salad (Serves 6)
This recipe is easily doubled if a lot of people will be coming to the potluck.
Half of 1 medium cucumber
1 pint cherry tomatoes
Half of 1 medium red onion
Half of 6-oz package reduced-fat chunk feta cheese
3-oz can sliced black olives, drained
1 clove garlic, minced
2 Tbsp olive oil
2 Tbsp white wine vinegar or lemon juice
1/4 tsp dried oregano
1/8 tsp sugar
1/4 tsp salt
1/4 tsp pepper
1. Slice cucumber into thin half-rounds. Cut tomatoes in half. Slice onion into thin slices. Crumble feta cheese.
2. Combine cucumbers, tomato, onion, feta, and olives. Mix to combine.
3. Combine garlic, oil, vinegar, oregano, sugar, salt, and pepper. Toss with cucumber mixture.
4. Refrigerate several hours or serve immediately.
Nutritional analysis per serving: 120 calories, 10g fat, 370mg sodium, 5g carbohydrate, 1g fiber, 3g protein
Recipe presented to "Kirby's Kitchen," Piatt Co, 2014
Today's post was written by Caitlin Huth. Caitlin Huth, MS, RD, is a registered dietitian and Nutrition & Wellness Educator serving DeWitt, Macon, and Piatt Counties. She teaches nutrition- and food-based lessons around heart health, food safety, diabetes, and others. In all classes, she encourages trying new foods, gaining confidence in healthy eating, and getting back into our kitchens.