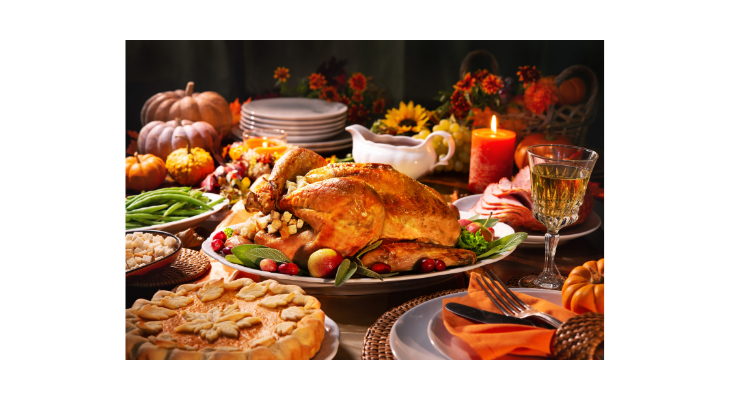 Have you always brought dessert to the holiday gathering? Maybe you are not used to preparing a full meal, but this year may be different. Enjoy the holidays with a new twist this year. If you are cooking a full meal for the first time – You can do it!
This can be a daunting task. Plan and strategize and pull this dinner off without a fuss. Have fun cooking with members of your household and enjoy the leftovers (or planned overs).
Holiday Meal Planning
Decide on the menu.  Make what you and your family like.
Share recipes with family members ahead of time so you all can enjoy your favorite dishes.
Assign tasks to family members, get everyone involved.
Shop ahead.
Let's talk turkey!  

 You may not need a 30 lb. bird this year.  Is the crowd smaller? Plan for ¾ pound of turkey per person, thaw in the refrigerator: 24 hours per every 5 pounds.
Bake a turkey breast rather than a whole turkey (bone-in gives better flavor broth)
Think about oven space—you can cook the turkey the day before, slice and refrigerate and heat in the microwave
You can purchase an oven-ready or even a pre-cooked turkey

Cook ahead and reheat when possible. Bake pies or buy your favorite.  Assemble casseroles and refrigerate uncooked; bake on the holiday.    
Cut and prep vegetables, garnishes 2-3 days before.
Set the table the day before.
Relax the timetable: sleep in, have a leisurely breakfast and enjoy a late afternoon holiday meal.
There is no law against a dessert, cranberry sauce or bread product purchased from the store.
Check out our video for mashed potatoes; What's Cooking with Mary Liz Wright
Reduce the number of dishes or cut the recipe in half.
To reduce a recipe by one-half the amount, follow these measurements:
Full amount | Use this amount to divide in half
¼ cup | 2 Tablespoons
1/3 cup | 2 Tablespoons + 2 teaspoons
½ cup | ¼ cup
2/3 cup | 1/3 cup
1 Tablespoon | 1-1/2 teaspoons
1 teaspoon | ½ teaspoon
½ teaspoon | ¼ teaspoon
¼ teaspoon | 1/8 teaspoon
1/8 teaspoon | dash
What about leftovers?
Turkey Nachos
1 cup of chopped turkey
2 teaspoons of ground cumin
1/2 of a medium onion (chopped)\
Juice of 2 fresh limes.
1 T. olive oil
2-4 cups Tortilla Chips
½ cup Jalapeno Cheddar Cheese
1-2 Tablespoons fresh jalapeno slices
Directions: Sautee onion add turkey and cook till brown. Add ground cumin and squeeze with fresh lime juice.  Cover and gently simmer. Place tortilla chips on a platter. Add the turkey mixture, cover with cheese and jalapeno slices. Bake in the oven at 450 till cheese is bubbly. Top with cranberry salsa. Eat!
1 cup cranberry sauce
1-2 Tablespoons jalapeno pepper (depending how spicy you like your food)
1 tsp. chili pepper
1 tsp. ground cumin
1 Tablespoon cilantro. 
1 Tablespoon or stem, green onion
Juice of 2 fresh limes
Directions: Place ingredients in blender or food processor. Mix well and enjoy with the Turkey Nachos!