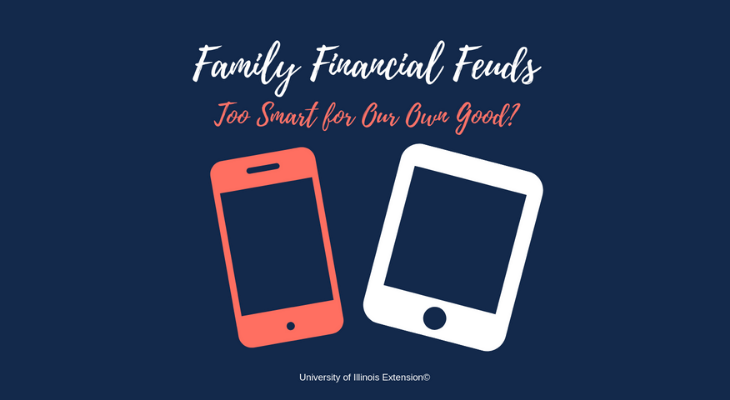 What are some of the smart mobile devices (SMDs) you have in your household? In a new podcast episode on Family Financial Feuds, Too Smart for Our Own Good? Kathy Sweedler and Camaya Wallace Bechard (Illinois Extension Educators) discuss the popularity of smart devices such as iPad and tablets, smartphones, watches, and others in families and households. They focus on the decisions households make about different SMDs. Individual members of a household may have different attitudes and comfort levels with technology, and they consider cost, plans, and types of devices.
A 2018 report from the National Center for Health Statistics (NCHS) found that more than half (54.9%) of American homes had only wireless telephones (e.g., cell phones/mobile telephones). In other words, most households have only mobile telephones instead of landlines.
Our Conversation on Deciding:
The type of device for household members

What age is appropriate to get a new smartphone, iPad, smartwatches, etc.?

Whether to save to buy or use a payment plan

If it is worth adding protection plans

If the purchase is a need or for status
Key Take Away: Avoiding Family Feuds around Technology
Share devices vs. everyone having their own

Set boundaries and expectations about prices, types, features, price in aggregate

Be consistent, create age-appropriate rules, family/household standards around sharing and using SMDs

Consider the possibility that you may need to update your data or streaming plan when you add more devices. For example, the number of screens in your streaming plan could mean you pay more

Seek l

ow-priced smartphone

through some of the major providers

Be careful about extended warranties
To learn more and listen to past episodes of the Family Financial Feuds podcast, check us out on Sound Cloud!