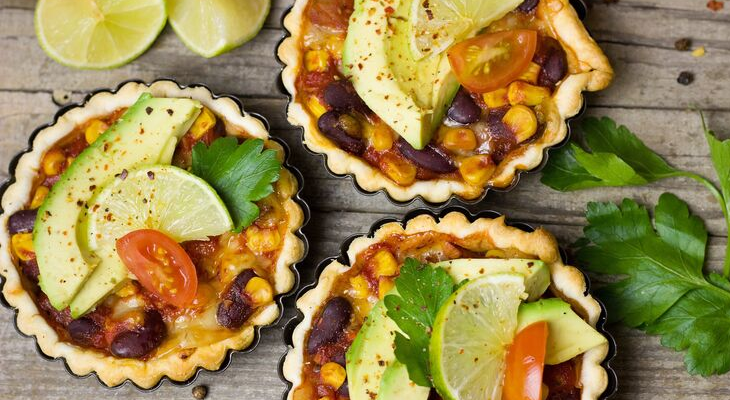 Sometimes it takes a culinary dictionary to read the recipes in a cookbook, particularly a cookbook that is a little more "fine dine and wine." You may have come across terms, such as galette, crostata or tart and wondered what the difference is, if any. 
All involve either a dough or crust and can be either sweet or savory. A galette and crostata are actually the same thing, only separated by language: The word galette is French while crostata is Italian. Galettes and crostatas are usually round and involve a rolled out pastry dough with a filling piled high in the center. It's similar to a pie without a top crust, but instead of having the pie crust edges folded out, they are folded in, brushed with an egg wash, and baked until golden. A tart, on the other hand, uses a shortbread crust rather than a flaky piecrust, filling in the center, and baked in a tart pan.
Not as fancy, but just as tasty is the potpie, a savory meat pie with a top crust and possibly a bottom crust, too. Why not try them all?
Chicken Potpie
1 Tablespoon olive oil
1 cup chopped onion
1 cup sliced carrots
10 oz. crimni mushrooms, halved
2½ cups no added salt chicken broth, divided
¼ cup cornstarch
2½ cups shredded cooked chicken
1 cup frozen peas
¼ cup reduced-fat sour cream
¼ teaspoon salt
Freshly ground pepper, to taste
1 prepared pie crust, rolled out
1 egg lightly beaten with 1 Tablespoon water for egg wash
Preheat oven to 425°F. Coat a 2-quart baking dish with cooking spray. Heat oil in a large Dutch oven over medium high heat. Add onions, carrots and mushrooms; cook, stirring until slightly tender. Add 2 cups broth and bring to a boil; reduce heat to simmer. In a small bowl, mix cornstarch with remaining ½ cup broth; stir into vegetable mixture until thickens. Stir in chicken, peas, sour cream, salt and pepper. Transfer to prepared dish.
Brush the rim of the pie dish with the egg wash, then lay the dough over the top so that it overhangs the sides. Trim the overhang to a ½-inch larger than edge of the dish. Gently press the dough down; brush top of crust with remaining egg wash. Cut 3 slits in the top with a knife. Bake for 25-30 minutes until golden brown.
Yield: 8 servings
Nutrition Facts (per serving): 230 calories, 12 grams fat, 430 milligrams sodium, 21 grams carbohydrate, 2 grams fiber, 10 gram protein