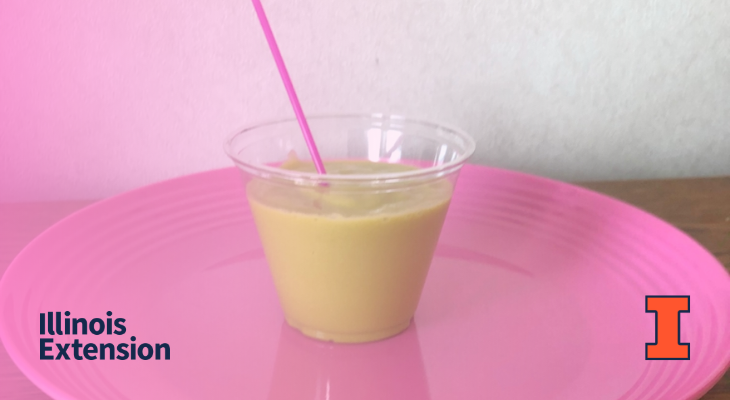 This blog post was written by Illinois State University graduate student and dietetic student, Dylis-Judith Mensah. 
The color green is usually associated with growth. Avocados are nothing short of that! They are climacteric because they are plucked green and hard from the tree and ripen after harvesting. Avocados are endowed with various essential nutrients, primarily mono- and poly-unsaturated fats, which reduce the risk of cardiovascular diseases. Furthermore, they contain vitamins A, B, C, E, and K, potassium, phosphorus, magnesium, iron fiber, and antioxidants. The fiber in 100g of avocado meets almost a quarter of the daily recommendations by the USDA. Since about 95% of Americans do not meet the daily fiber recommendations, avocado gets you off to a good start—with a combination of other grains, fruits, and vegetables, you're sure to meet the full fiber daily recommendation. 
Avocado is typically eaten as guacamole or puree salads, seasoned with salt, vinegar, pepper, and other condiments in South America, whereas in Brazil, the vegetable is enjoyed together with honey, sugar, and liquors. In baked products (such as cookies, muffins) that call for butter or margarine, avocados work great as part or whole substitutes because of their naturally-rich healthy fat content, which give them a creamy consistency when pureed—for this reason, they can be enjoyed as spreads on bread slices, crackers, etc. Besides their palatability, avocados can be used topically to promote moisture and boost the healthiness of the skin and hair—this is true for avocado oil. Avocado oil is extracted from the pulp of fresh avocado, and it is commercially used in pharmaceutical and cosmetic products. Avocado oil is often compared to olive oil due to some aesthetic, sensory, and nutritive similarities as such avocado oil will work well in recipes that call for olive oil, like salad dressings.
Sadly, avocados are easily perishable. Once they are fully ripe, it's only a matter of time before they go bad. Here are some easy ways to store your avocados at home:
Unripe avocados should be allowed to ripen in a paper/perforated plastic bag or ripening bowl away from sunlight on a counter. This retains the moisture content.
Ripe avocados can be stored whole in a refrigerator for about 1-3 days
Just in case you cut off a bit of a whole avocado and wondered how you could store the remainder without it browning, this is for you—splash fresh lemon/ lime juice or white vinegar over the cut surface, place in an air-tight container and refrigerate. Ideally, use in a day or two.
Tropical Smoothie  
½ cup ripe, fresh avocado, pitted, peeled, and diced
½ cup ripe mango, peeled, pitted, and diced  
½ cup fresh pineapple, peeled, cored, and diced
1 ½ Tablespoons pineapple juice
½ cup unsweetened coconut milk
½ cup ice
In a blender, add avocado, mango, pineapple, pineapple juice, almond milk, and ice. Blend until smooth. Serve and enjoy!  
Yield: 2 servings
Nutrition Facts (per serving): 140 calories, 7 grams fat, 0 milligrams sodium, 21 grams carbohydrate, 4 grams fiber, 1 gram protein
Sources: 
Purdue Extension, Storing Fruits and Vegetables for Best Flavor 
University of Nebraska-Lincoln, Peeling and Pitting an Avocado