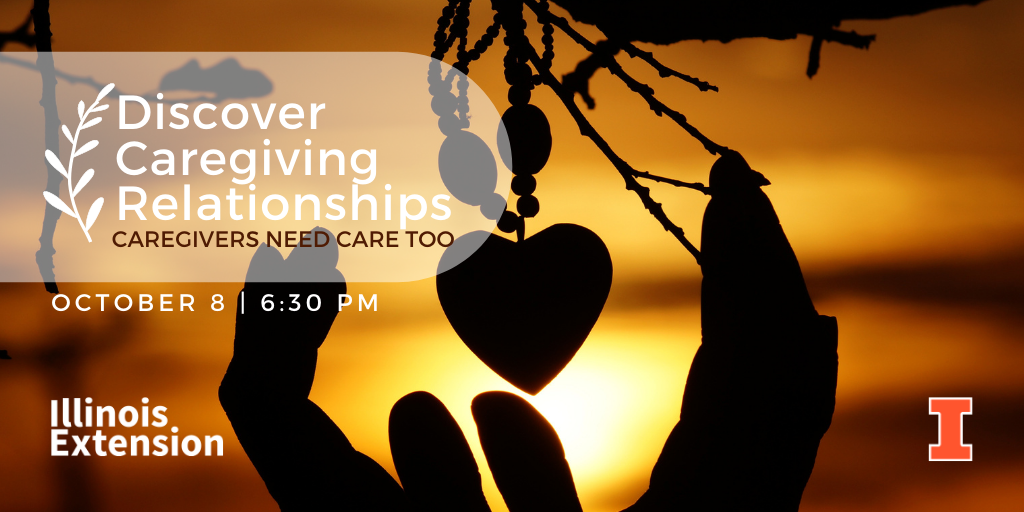 Discover Caregiving Relationships
Over 34 million people in the U.S. are caring for someone over the age of 50. This six-part webinar series is designed to help caregivers address the many issues and challenges they face in their current role. Participants will discover the variety of relationships impacted by caregiving situations and learn techniques to help keep them healthy. Join Illinois Extension family life educators online on Thursdays, October 8 to November 12, from 6:30 to 7:30 p.m. to learn more. Online registration is required for this webinar series. There is no cost to attend the online program, but early registration is requested.
October 8, 2020 | 6:30 PM
Caregivers Need Care Too
Many times caregivers put their own needs last. This session examines how to recognize and prevent caregiver stress and burnout with strategies for self-care.
PRESENTERS: Cheri Burcham and Molly Hofer
Illinois Extension provides equal opportunities in programs and employment. If you need a reasonable accommodation to participate in programming, please contact an event presenter. Early requests are strongly encouraged to allow sufficient time for the requested accommodation.
Complete Webinar Series