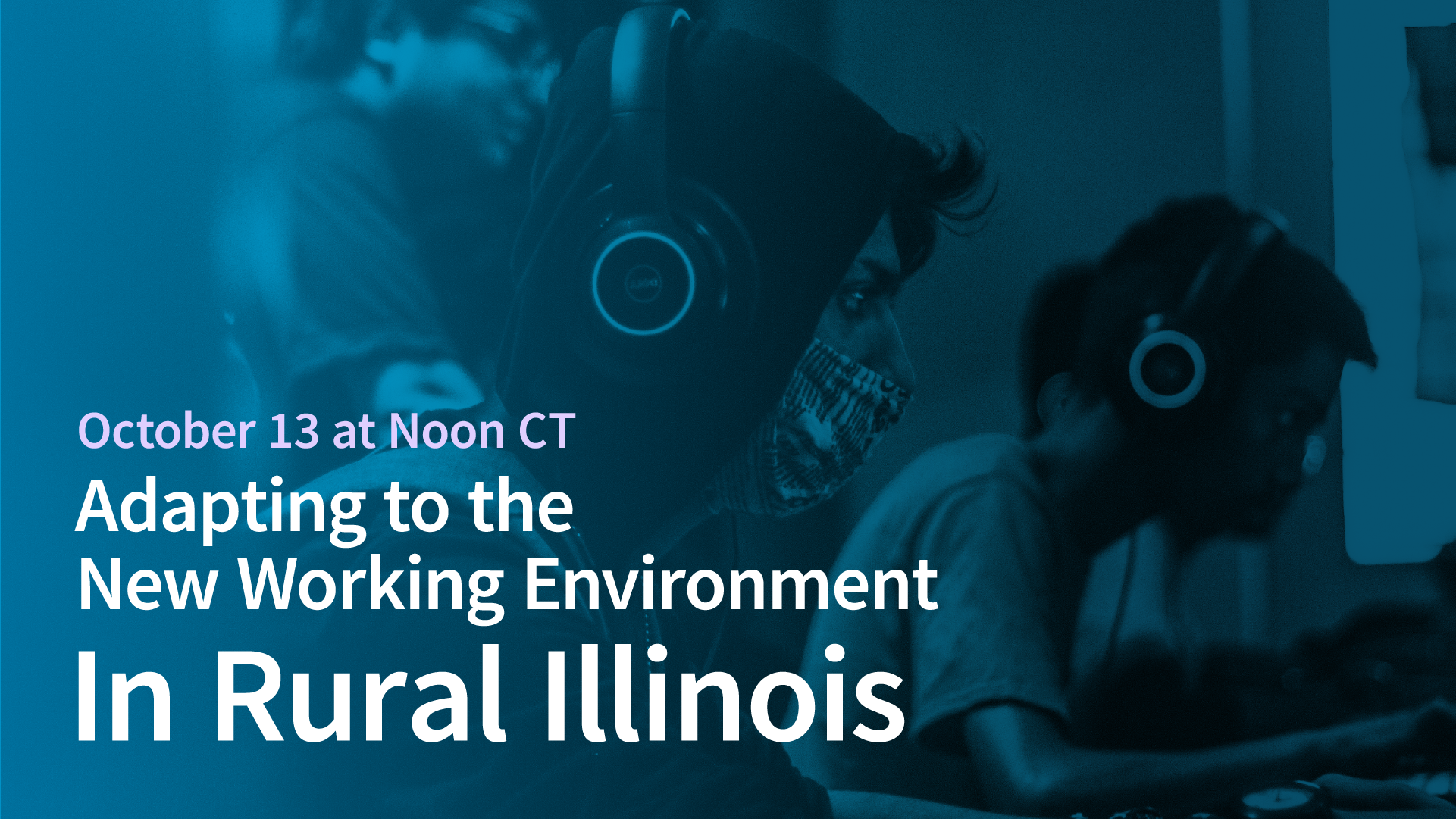 The workplace has changed for the global pandemic and its impact on urban and rural communities is still being written. Which changes will last and which will disappear? By understanding the trends in the workplace and workforce, proactive communities can target efforts to specific populations in a low-cost approach to economic development. 
University of Illinois Extension, in partnership with the Purdue Center for Regional Development, will review strategies for adapting to the new working environment and remote work. Digital literacy, as a workforce development strategy, can position your community for existing or expected broadband expansion.
The free online webinar will include discussion on remote worker categories, pre- and post-pandemic trends, placemaking with an eye to the remote or digital worker, and other unique workforce development needs. 
Presenters include Carrie McKillip and Russel Medley, community and economic development educators at University of Illinois Extension, and Cheyanne Geidman, an engagement specialist at the Purdue Center for Regional Development. 
If an accommodation is needed to participate in the program, please email Nancy Ouedraogo at esarey@illinois.edu. Early requests are strongly encouraged to allow sufficient time to meet access needs.
ABOUT THE PRESENTERS:
Carrie McKillip provides community, business, and organizational development programming in Henderson, Knox, McDonough, and Warren Counties. Participatory planning processes, customer service training, and disaster preparedness/mitigation planning are included in her programming. In addition to direct programming, she collaborates with other area groups and organizations to impact the communities she serves. Examples of these organizations include the Six County Entrepreneurial Support Network, Project Rebound, Inc., and the Henderson County Community Organizations Active in Disasters (COAD).
Russel Medley is a community and economic development educator for University of Illinois Extension, serving Henry, Mercer, Rock Island, and Stark Counties. He has 25 years of experience in the urban planning and economic development fields. He works as an economic development specialist, marketing, and research director for a countywide economic development organization in the Chicago suburbs where he focuses on workforce development, disaster preparedness planning, rural and urban planning, and the development and quantification of economic development strategies for municipal and regional entities.
Cheyanne Geidman is an Engagement Specialist at the Purdue Center for Regional Development. Cheyanne saw the digital divide first-hand through her communications work and now seeks to help individuals and communities overcome barriers and fully participate in the digital age. She has helped build digital skills among small businesses, researched online activities across cultural contexts, assists counties and regions in creating digital inclusion plans, and more. She is also active in the Extension Disaster Education Network and explores incorporating digital inclusion into disaster education and programming.