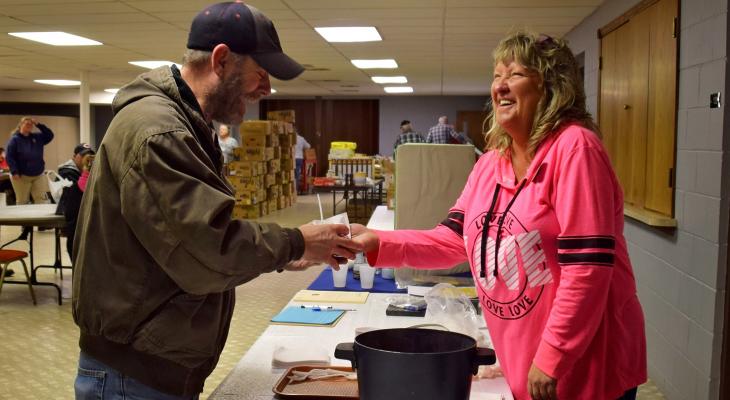 For almost four years, University of Illinois Extension in the Fulton-Mason-Peoria-Tazewell Unit has extended the Expanded Food and Nutrition Education Program (EFNEP) to reach not only Peoria but also Tazewell County to help address food insecurity and associated health issues that may arise from it. EFNEP staff teach citizens at food pantries and local organizations to help them better understand nutrition and strategies to buy healthy food on a budget.
Statistics show food insecurity in Tazewell County to be 9.7% for adults and 15.5% for children. The latest population count for Tazewell County was 132,328, which would equate to 12,836 adults and 20,511 children being food insecure. The definition of food insecurity is not having access or availability to proper food. The root cause of most food insecurity is poverty.
To meet this growing need, over 40 food pantries now exist in Peoria and Tazewell counties. One public misconception of people using food pantries is that they do not work. Many people who use food pantries are employed; of those who don't work, many are elderly or disabled. 
Why then, can people not afford food? One major reason is that food can be expensive and many jobs do not pay well. Often people living in poverty live in food deserts, where healthy food access is not available within close proximity. Lack of healthy food leads to chronic health problems such as diabetes and obesity. People who live in food-insecure areas have twice the rate of type 2 diabetes as other people. Children, the elderly, and ethnic minorities are the groups most affected by food insecurity.
Cheryl Russell, EFNEP instructor, currently serves the following programs teaching nutrition education in Tazewell County:
Hope Chest Food Pantry, Pekin
Calvary Baptist Food Pantry, Pekin
Liberty Baptist Food Pantry, Pekin
Illinois Department of Human Services, Pekin
Housing Authority, Pekin and Washington
Rogy's Childcare, Pekin
The latest EFNEP program impact data (2018 ) shows the following positive impacts related to food insecurity:
96% of participants showed improvement in eating healthier foods such as more fruits and vegetables
52% showed improvement in one or more food security indicators such as having enough money for food
78% improved in one or more food resource management practices such as planning meals before shopping, making a shopping list, and cooking more dinners at home.
MEET THE AUTHOR
Margaret Cover served as EFNEP educator in Peoria County up unit she retired in June 2021.
ABOUT EXTENSION SNAPSHOTS
Extension Snapshots are monthly impact reports that share the stories of our programs in Fulton, Mason, Peoria, and Tazewell counties. To have them delivered to you directly sign up using our E-blast registration.