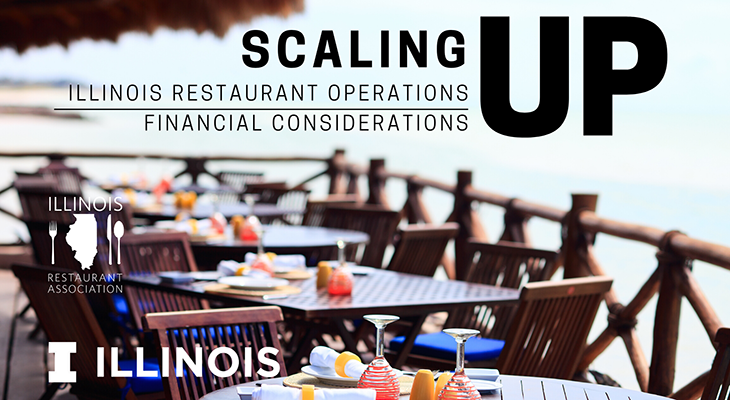 Local eateries, restaurants, cafes, pubs, and coffee shops are the social and economic lifeblood of many Illinois communities. Following the stretch of statewide shutdowns that began in late March, University of Illinois Extension, U of I Department of Food Science and Human Nutrition (FSHN), and Illinois Restaurant Association are helping restaurants adjust operations as they face supply shortages, safety restrictions, and labor challenges.
More than 550 people from throughout Illinois participated in the webinar series, Scaling Up Restaurant Operations, that featured suppliers, food safety experts, and two local restaurants, Edge by Chef Dustin Allen in Peoria Heights and [CxT] Roasting Company in Peoria. According to Illinois Restaurant Association, "As the state's largest private-sector employer, restaurants are the foundation of Illinois' economy. Industry suppliers and their team members - such as farmers, packers, beverage distributors, and delivery people - all depend on a thriving restaurant and hospitality sector to stay in business. Setting restaurants up for success as they reopen is critical to ensure the long-term vitality of the restaurant industry and their supply chains."
Due to this critical need, additional outreach efforts expanded the audience-reach through social media and numerous media outlets. "Based on our experiences in other programs, we know that many more participants view the program recordings at their convenience," explained Kathie Brown, Extension community economic development educator serving Fulton, Mason, Peoria, and Tazewell counties.  The archived presentations continue to be accessed online:
Scaling Up Restaurant Operations: Financial Considerations: go.illinois.edu/ScalingUpOperations
Scaling Up Restaurant Operations: Safety Considerations: go.illinois.edu/ScalingUpSafety
The recordings allow participants to access the original presentation along with resource materials on menu analysis and recipe costing (provided by faculty) which are critically important to the long-term survival of restaurants.
Restaurants have been required to develop new business plans, literally overnight. One of the webinar's guest speakers Dustin Allen, executive chef at Edge, says his company has "learned how to do carryout," including family-style menu options that have been well received. Sixty family farms provide the restaurant's food inputs, so Allen now incorporates new menus items to take advantage of what is seasonally available.
From meat to cleaning supplies, shortages affect a restaurant's ability to offer full menus at profitable prices. "With the supply chain and cost of products being so volatile right now, we're seeing success in a smaller, tighter core menu," says Gretchen Ernst, Gordon Food Service customer support manager and webinar presenter. The webinar series provided restaurants with tools needed to analyze menus for profitability, popularity, and the ability to travel as a carryout item. Two U of I FSHN instructional videos related to menu analysis and recipe costing provide tools to allow operators to make informed decisions about menu choices.
Extension staff and partners are currently in conversations for follow-up programming, as the collaboration proved valuable for all involved.