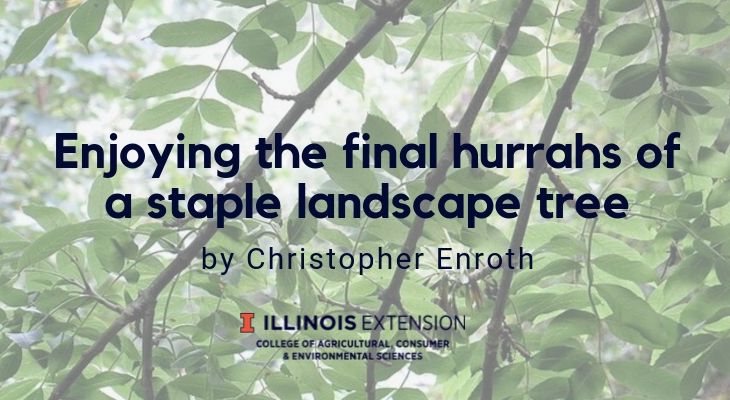 We bought a home! After six years of living in a townhouse on the edge of Macomb, we have started to burst at the seams. In that time, we have accumulated quite a few occupants in our current dwelling. Now with three kids, one dog, a cat, and a couple of Madagascar hissing cockroaches, it was time to hunt for something a bit bigger that would fit our growing family.
Before making an offer on the new place, the thing that kept staring me in the face was the three massive ash trees (Fraxinus spp.) in the front yard. With Emerald Ash Borer (EAB) confirmed in Macomb last year, I know these ash trees are going to be a major cost.
If the trees were less than 15-inches in diameter, I could purchase a soil drench at a local garden center containing the active ingredient imidacloprid, and treat the trees in the spring. However, these trees are well beyond that 15-inch diameter, and only licensed pesticide applicators have access to chemical formulations and specialized equipment that can treat trees with this amount of mass.
This means I will have to turn to trunk injections by a licensed applicator. Trunk injections involve drilling small holes into the base of the tree and using specialized equipment to inject a systemic insecticide into the tissue of the ash. Pesticide applicators use two popular active ingredients. The first is imidacloprid, the same ingredient I mentioned before as a soil drench. This treatment tends to cost less, maybe $75 per tree, and you will need to treat your ash tree every spring.
The second systemic chemical is known as emamectin benzoate, popularly sold under the brand name TreeAge. (Pronounced like 'triage' the process of assigning urgency to patients.) Emamectin benzoate is often marketed as needing to be injected every two years to protect ash trees, but a Michigan State University study showed a healthy ash tree typically only needs an injection every three years. This product comes with a higher price tag ranging from $100 to $200 depending on the size of the tree.
In university studies, emamectin benzoate often performs better than imidacloprid. Keep in mind as far as we know, ash trees will need treatment for their entire life. Removal of a large tree can easily be over $1,000. Either way, it will get costly.
When EAB is confirmed for a county, ash trees are considered to have a 98% mortality rate, unless you treat with chemical pesticides. For homeowners comparing the cost of treating the tree indefinitely with the cost of removal, many have opted for removal. So like the chestnut and elm, the ash tree will become more synonymous as a street name rather than a landscape tree.
The reason we are deciding to treat our ash trees is that we are on a limited income and the major cost of removal will have to be budgeted over the course of several years. In the meantime, the treatments will keep the trees alive until we can afford removal. If a homeowner opts to do nothing, keep in mind that ash trees become brittle and hazardous fairly soon after dying posing a safety risk to the owners, neighbors, and public on the adjacent sidewalks and streets. I am not aware of any funding to assist with those facing large dead ash trees on their property, but it is always worth a phone call to your local county or city government office.
Traveling around Macomb and other communities in central and southern Illinois, I realized, for many, this might be the last time they can enjoy the spectacular fall display of an ash tree.
Yes, ash trees are overplanted throughout American cities, but they were selected for a reason. Ash perform relatively well in urban/residential conditions and they have outstanding varieties of yellow, red-purple, and scarlet fall color.
If you are lucky enough to live somewhere that hasn't yet or is just starting to feel the effects of EAB, I encourage you to take some time this fall and enjoy a native landscaping tree that is likely on its way out the door.
As always, if you would like more information on EAB or any other horticultural conundrum, contact your local Illinois Extension office.